Tue, 15 September 2015
Every so often I get questions on this, as many people don't listen to podcasts at all, so I thought I'd write a little post to help. There are three ways to listen to this show - subscribing, downloading MP3s individually, or streaming.
Subscribe if you can install apps on your computer/phone, and want to be able to get the latest episodes automatically. They will downloads as MP3s so you can play them anywhere once they arrive.
Download individually if you don't want to install a podcast app, but just want to grab the audio files to play on any device, especially if you just want the odd episode here and there.
Stream if you're on a computer where you're not at liberty to actually download/install programs or MP3s, and/or use a device that has TuneIn built in.
HOW-TO
Subscription

iTunes




Launch iTunes, search for "Air Adam Podcast" - you'll find me there and can subscribe or manually get one of the old episodes.
Each of my webpages has a link you just have to click which will launch iTunes and take you to the page in the store. At the Podcast section of http://airadam.com, it's the big black icon on the right. If you're at http://podcast.airadam.com, it's the first white icon in the right hand panel, showing the iTunes logo. Once you're in iTunes at the podcast's page, you can just press "Subscribe"!

iPhone "Podcasts" application

Very similar to the above; click the "Podcasts" item, put "Air Adam Podcast" in the search, and it'll be there in the list of podcasts. Subscribe from there, and you'll be able to get episodes delivered directly to your phone.

Any other podcast applications

There'll be an option somewhere to "Add Feed," "Subscribe Manually," or similar. These programs will ask for the URL (or sometimes "RSS address") for the show. You need to give this text; http://airadam.libsyn.com/rss

I'm an Android mobile user, and BeyondPod is my favoured app; in there, you'd select "Add Feed," then click the icon in the top right, then "Enter Feed Address," then paste the address in.
For iPhone users, I hear Downcast is good.
Pocket Casts for Android and iPhone is recommended by many people, though it's not free - only a couple of quid though.
One-off downloads

On the main webpage (http://podcast.airadam.com), each episode has a little icon that says "Pod" before each title. That icon is a link to the MP3 file with the episode audio in it, so just do the usual right-click "Save link as..." browser stuff you normally would to save a file, and it'll download.
If you're on http://airadam.com, it's similar - the link is in text, directly below the episode title.

Streaming

The easiest way to listen to the podcast streaming is on TuneIn radio. If you're on a computer with a web browser, just head to http://tunein.com/radio/Air-Adam-Podcast-p570554/ - you'll be able to listen to episodes with no extra software needed. There's also a link icon on the right of my main podcast page which will take you there.
If you have the TuneIn mobile app, or a Sonos device, or similar, you can search for "Air Adam Podcast" and it'll show up - go from there.
If you're on Facebook, there's a "Podcast Player" tab on the Air Adam page which allows you to stream episodes.
If you're new to the world of podcasts, I hope you find this helpful!
Peace,
Adam
Category:
general
-- posted at: 11:30am EDT
---
Wed, 31 October 2012
Episode 41 : The Stare Of The Sightless
"Look behind the camera..."
- Songvibe
Tough selection this month - decided I wanted to try and keep the same tempo through the whole episode only to find lots of tunes I quite fancied playing were 5 or 6 BPM slower! Still, the restriction made me dig a little harder and I think it's another good set. We start off in face-smashing mode and go from there...
---
Playlist/Notes
Hostyle : Guilty
No flash, no glamour - just a rugged street record! You can't expect anything less from a member of the ferocious Screwball. Hostyle attacks Godfather Don's beat not with any particular complexity but just a straight blast of aggression. You know what? Sometimes that's just what has to be done. This is the A-side of a great 2002 12" which I'll definitely be revisiting in a future episode...
donwill + suhBURB : Guilty
I was flicking through a few things when I realised I had this - no way was I passing up the opportunity to blend it in here. Same sample, not a massively different usage but the drum/percussion change definitely gives it a different feel. This is the second time I've dipped into the "Suburban Sprawl" album (last time was way back on episode 18!), and it's another winner. Short but sweet!
[Salaam Remi] Nas : Made You Look (Instrumental)
One of those classic Hip-Hop 12"s that Nas always has always had the ability to drop throughout his career. Of course here, we go without the vocals and just run with Salaam Remi's fierce beat, slowing down the classic Incredible Bongo Band "Apache" break (one of the foundation breaks of Hip-Hop, if you didn't know) and morphing it just slightly into something to get the guns out to!
Bekay ft. Canibus, Shuko, Heltah Skeltah, Chino XL, DJ Revolution : Do This
First heard just the Canibus verse on a promo mix for Coalmine Records a few years ago and thought it was incredible, but didn't know where to actually get the track! Ran into it while flicking through Spotify though and snatched up a digital copy. I can't say I know much about Bekay other than that he's from Brooklyn (BK!), but it's a solid enough track - I think he gets outshone by the guests though. That said, you want to put together a hot product at the end of the day so why go for people you can easily beat just to satisfy vanity?
DJ Premier & Bumpy Knuckles : More Levels
Definitely one of my favourites from the "Kolexxxion" album (which I was lucky enough to get signed this month, thanks guys!) Reminds me a little of the Jackson 5 "Walk On By" version with the organ sounds and drumming but I don't think that it's necessarily sampled from there. The switch-up for the hook is ridiculously ill though, the guitars make it and the cut-ins add that extra flavour to blast it over the top.
Dynas ft. Skam : Dime Out
Apologies for the sound quality - I think it's the original recording itself. Heavy tune though, coming from the "Beyond Real Experience Vol.2" album, which I should note is available as a download for only a fiver right now! This is an example of something Dynas has wisely done all over his catalogue - get on a DJ Spinna beat :) Can't say fairer than that!
The Away Team ft. Billionz : Awesome
Bit of a funny one from the North Carolina group's "Training Day" album. I have half a feeling the main keyboard line may put some people off, and the lyrics aren't absolutely slaying it, but the drums are cracking and when the bass comes in during the hook...it comes in like an air raid siren on the low! Khrysis definitely snuck that little move in there to great effect. Even if you don't like this one as much as I do, I think it's fair to say the full album is worth having at the right price.
[J Dilla] Slum Village : Fall In Love (Chopped)
I thought the drums in "Awesome" were strikingly similar to the ones here (if not identical), so I thought it would be a good blend - however, as I don't have an instrumental of this Slum track I decided to do a little chopping up on Serato to create a little instrumental bed. Could probably have gone and done lots of edits to make it flawless but thought I'd keep the rawness :) Just to speak a little on the track itself - I got this on the vinyl of the classic "Fantastic, Vol 2" album and only found out much later that there were some issues with the sample clearance once it had been released and so a re-release had to be done, replacing this track with a remix. As such, a lot of people don't actually have the version you hear here but it's well worth seeking out as it's a gem.
Suga Free, Pimpin' Young : Succa Repellent
Decided to have a quick Spotify search to see if there was anything new from Suga Free and stumbled on an album called "Thunder & Lightning" alongside a guy called Pimpin' Young I hadn't heard of previously. Can't get enough of that hook and the beat - though due to the fact I bought this as a digital release, I'm not sure who produced it. I'd definitely like to see a consistent effort industry-wide to have credits included with digital music purchases...as a member of the liner note generation!
Dogg Pound : A Good Day
Took a chance on this one when Rap & Soul Mail Order were clearing out all kinds of stock just on the strength of the Dogg Pound name and I was rewarded; great summery BBQ tune, which is of course why I'm playing it in the damp and cold of the British autumn. Daz is on the production and gives it a classic West Coast sound. The 12" I have it on is titled as above, but a bit of searching around suggests this is also on the "Dogg Chit" album as "Itz A Good Azz Day" - might be worth checking out that album to see if there's anything else good on there.
Lyricalligraphy ft. Truthos Mufasa : David's Slingshot
When I first heard Lyricalligraphy rhyme he must have been somewhere around 14, as part of a whole bunch of guys on the mic at Manchester's Contact Theatre. In the cities, a lot of young guys try to rhyme and never improve, but I can say in the years that followed that he's continued to work at his craft and takes it seriously. Right now he's part of the new Manchester crew Ape Cult (who tore down In The Loop this month), and this track is from his debut EP "Lyricalligraphy Vol.1" which you can get on Bandcamp at a price of your choosing - worth checking out! Production is from Jus-Ru on this one, working a classic jazz sample but importantly not doing too much to it - nice.
Platinum Pied Pipers ft. Tiombe Lockhart : I Got You
The right kind of jazzy feel to follow up the last song I think! A beautiful wind-down track from the 2005 "Triple P" album, with Waajeed and Saadiq putting that Detroit shuffle into it and Tiombe hitting just the right tone on the vocals. The album is excellent and well worth having if you like an ever-so-slightly jazzy, left-field aspect to your Hip-Hop!
Kuartz : Back About
Another track from the North West, this time from Oldham - just a few miles around the M60. You've probably heard his beats here before and this is one I managed to miss the first time around. He's not got much up on Soundcloud right now but keep an eye on it, and if you're looking for beats, you know where to go!
Public Enemy ft. KRS-ONE : Unstoppable
Not your normal Public Enemy sound! I personally think this is a great record; an album cut from the "He Got Game" soundtrack (an excellent LP), with what I believe is the first collaboration between these two giants. Funnily enough, it's one of the few tracks on the album without an obvious connection to the film, so you just have to appreciate it for the quality. Gary G-Wiz is on the very low-key beat, and his cutting in of the woman humming in the hook is genius - the perfect seasoning on top. Now that we've seen KRS collab on albums with Buckshot and Bumpy Knuckles, reckon there's any chance of getting a full project with Chuck D?
Common ft. Chantay Savage : Reminding Me (Of Sef) (Roots Remix)
Common reminising on the old days, with a lot of detail I'd imagine you'd really appreciate if you're from Chicago and remember the places and the styles. I don't think this is a remix by The Roots - I thought from the sleeve notes that this was just the name of the remix! I think that Ynot produces this version which was on the flip of the "Reminding Me..." 12", which in turn was a release from the "One Day It'll All Make Sense" album. If you know better, please correct me!
M-1 ft. K'naan & Stori James : Til We Get There
I'd never given this a proper listen through until I was selecting tunes for this month, so was pleased to find it was just the right song for this space. Despite the fact it slipped under my radar, apparently this was a relatively successful tune that was even getting some radio rotation! A strong, positive track from half of dead prez alongside the Somali MC K'naan, who is very much about message music himself. This version comes from a promo 12" - if you like it, then you'll probably want to explore M-1's "Confidential" album.
Pete Rock : For The People
Nice head-nodding beat with the right feel for the autumn. One of the many dope beats on the man from Mount Vernon's "Petestrumentals" album from the BBE "The Beat Generation" series. If you like Pete Rock, you should definitely have this one!
Slaughterhouse : The Other Side
I was looking for tracks produced by Florida's J.U.S.T.I.C.E League (not to be confused with the North Carolina Justus League) largely because I can't stand listening to Rick Ross and when I saw they'd done something for the MC supergroup Slaughterhouse, I knew it was going to be worth a listen. Wasn't disappointed! The production almost sounds like a Hip-Hop take on indie, but in a good way, and the singer on the hook makes it work brilliantly. In fact, it reminds me a little of "Wonderwall" musically, except I actually like this record :) The lyrics on this were what really made me stop and listen though; Royce, Joell Ortiz, and Joe Budden going introspective with stories of the struggles of life. Crooked I wasn't on this one, but he is on an unreleased extended version I just stumbled on! This track is on the deluxe version of the "Welcome To: Our House" LP...why can't we just have one version of each album?
---
Please remember to support the artists you like! The purpose of putting the podcast out and providing the full tracklist is to try and give some light, so do use the songs on each episode as a starting point to search out more material. If you have Spotify in your country it's a great way to explore, but otherwise there's always Youtube and the like. Seeing your favourite artists live is the best way to put money in their pockets, and buy the vinyl/CDs/downloads of the stuff you like the most!
---
Thu, 28 June 2012
Episode 37 : Sound Execution
"The respect in my city reflects the gods with me..."
- Redlight
Third birthday episode! Really pleased to still be going after all this time - big thanks to you all for supporting! I've got some absolutely choice tunes for this episode, definitely looking forward to getting this one onto the iPod. This was one of those months where all the tracks just fell together at the right time, so spread the word and let everyone hear it! Without further ado, let's get into the notes...
---
Playlist/Notes
Suga Free : I Wanna Go Home
Starting things off on an "improvised" vibe - a deep album cut from Suga Free ("The Pimp") coming from the debut album "Street Gospel." Drumming out a beat on the table in true jailhouse style, he showcases his signature smooth and yet animated flow on this tale of being caught up in the system. You might assume this was put together on multiple tracks in the studio, but I think the lyrics and the beat could well have been recorded at the same time; DJ Quik (who produced the first album) once told a story of Free auditioning for him by drumming a beat with a pen while rhyming at the same time. Skills, no doubt.
[Kut Masta Kurt] Motion Man : C'mon Y'all (Instrumental)
Sounds like something from the late 80s, I could definitely hear Kane or Ultra all over this track!
Quincy Jones ft. The Human Bean Band : Wee B. Dooinit
This is one of those tunes that probably has you looking at me sideways right now! Taken from Quincy Jones' 1989 album "Back On The Block," the most notable thing about this track is the almost total lack of actual instruments on it! All the main sounds are from the body - chest slaps, hums, finger clicks, and so on. You don't believe me, go back and listen again :) Genius bit of engineering/production to make it all fit together as well, but would you expect anything less from the man who produced "Thriller?"
Roc Marciano ft. KA : We Do It
It seems like a long time ago since Roc Marciano was buried among the many artists in Busta Rhymes' Flipmode Squad - seems like a parallel universe in fact, with Roc Marc emerging as an underground star in his own right. He's got a very distinctive rhyme and vocal style that pretty much assures you'll never hear a "Starships" from him ;) and besides that he's actually got skills on the boards too - again, doing it his way. The "Marcberg" album this is taken from is mostly self-produced and has a consistent dusty, vintage kind of vibe. This track personifies it, and also makes me smile because the hook can't have taken more than 10 seconds to come up with (obviously spent the time writing the verses instead), but it works brilliantly - less is more and all that. Guesting on the mic is KA who was apparently in the first lineup of Natural Elements - didn't know that!
Outkast : Babylon
Looove this one. One of my favourite tracks from what to me is hands down the best OutKast album, their sophomore release "ATLiens." Everything about this is dope - the main lyrics, the gorgeous hook, the deep bass, the little wah-wah guitar licks...perfection. Close your eyes and listen to this one properly, it's absolutely worth it.
Bo$$ : Deeper (Instrumental/Original)
Here's someone who was building up a little momentum and then seemed to just disappear! Bo$$ came out from the West Coast in 1993 with the "Born Gangstaz" album which I don't think was an enormous seller but had a couple of hot singles (this was the better, easily). The story I heard was that Bo$$ disappeared because she got exposed as having a much easier background than she'd made out, but since then I've read that her actual background was common knowledge but that she'd had some hard times as an adult. Either way, the story shows how much you were expected to back up your words in that era - a long way from the reign of Officer Ricky... Anyway, back to the track - Def Jef produced a classic backing with a bit of Gwen McRae here and some Barry White there, and the early-mid 90s token dancehall injection comes from Papa Juggy. Remember those days?
Teflon : Get Mine
My understanding is that Teflon came out under the MOP banner and it took several years of me seeing his records in passing before I finally heard him properly on the amazing "Brooklyn Stompin'." Following that, I saw this old 12" while on a digging mission in London and thought it was worth a whirl. Sure enough, a good pick - musically, Nesto delivers a track very reminiscent of the kinds of stuff AZ or OC were rhyming over in the same kind of time period, and the lyrics are on that thematic mainstay of Hip-Hop - the come up.
9th Wonder : Vol I, Beat VI
Just a little something from the man with two microwaves, from a compilation of unreleased beats. It fit, it's nice, it makes the cut :)
Redlight Boogie ft. Sean Price : Heat Rock
P! Ferocious track from Amsterdam but with the Brooklyn connection. Redlight Boogie is a Dutch MC who's been recording since the 90s but I don't think is much known outside his home country - should be obvious from this that he has serious mic skills though. Sean Price came to Amsterdam to link up to record this track and do the excellent video - I recall reading that the whole thing was written and completed in a couple of hours. Teemong directed the video and added the processing and graphics that give it a look quite unlike any other I can name off the top of my head! Killing Skills on the beat, an absolute killer - if you claim Hip-Hop but can't enjoy this, I'm looking at you funny ;)
Roscoe Umali ft. Raekwon & Smif 'n' Wessun : I Remember
One of those obscure tracks which I stumbled on during a Spotify browsing session! I'd never even heard of Roscoe Umali before but I understand he's a Filipino West Coast underground artist - on this 2007 track though, he calls in some serious East Coast reinforcements, with Raekwon and Smin 'n' Wessun laying down their signature styles. A note from your DJ - I bought this tracks as an MP3 download and found there were loads of digital clicks and glitches in it - I wanted to share it with you so badly that I opened the track up in a wave editor and manually removed them all, which took an age. All for you!
Shabaam Sahdeeq ft. Xzibit : Concrete
One of those 12"s you take a chance on, but not a huge gamble - The Alchemist is on production on both sides and Shabaam Sahdeeq I knew from his early Rawkus releases. Not a huge amount to say on this one but I think Xzibit complements him well; that's right youngsters, he was getting busy a long time before the "Pimp My Ride" days :) Other side is decent as well, not a "must own" for most but still a decent release.
Smoke DZA ft Dom Kennedy : Pow Wow
When the most modern era of Hip-Hop jumped off, with new free mixtape/album releases online pretty much every day and an explosion in the number of new artists, I have to admit that I pretty much lost touch. Where do you start? Luckily, due to factors like the NouGold podcast, well-informed friends and online streaming, I started to find the gems in the modern age. Until about two weeks ago I think I'd only seen the name Smoke DZA about and hadn't paid any attention, but then I found this collab with Leimert Park's Dom Kennedy and had to play it! It's from the 2011 "Rolling Stoned" album, the title of which pretty much gives the main subject matter away...worth a listen at least. Production is by the straightforwardly named Kenny Beats, and I've got to say it was the beat that pulled me in - this is the kind of modern stuff I can definitely vibe off.
[K-Murdock] Mega Ran : Drop The Load (Original Instrumental)
Serious 8-bit business from the inspired combination of K-Murdock and Mega Ran (although this is just the instrumental). Not sure how much is played vs samples - and if sampled, how much it was chopped) but I think this is a top-notch track that would have been a classic inclusion on many of the video games from my childhood. Get yourself a copy on the "Forever Famicom DLC" project!
Fly Guys : Fly Guys With Glasses
*airhorn* One of the best new tracks I've heard in a while - Kay and Donwill of Tanya Morgan come together as "The Fly Guys" to give props to all those like myself who rock the glasses. Not the fake lens-less NBA-fashion type, but the type needed so we can actually see. Original on the topic, done with flavour, and backed with a big-time beat from The ARE, who rocks the Donald Byrd "Wind Parade" sample to devastating effect. Five stars from me - check the rest of the very affordable Fly Guys album for more.
Statik Selektah w/ Talib Kweli & REKS : My Favourite Song (Remix)
I *think* this is inspired by the same break as Pete Rock's "T.R.O.Y?" Certainly reminds me of it musically anyway, and it's a nice job by the man Statik Selektah. This is from a Grand Theft Auto-themed EP entitled "The Lost and Damned," but that's just a detail - it doesn't particularly make me think of the games. Statik goes to his fellow Boston native REKS to supply some of the vocals, but the other man on the mic is the Brooklynite Talib Kweli, and both of them do the beat some serious justice. As an aside, the title has the handy side effect of making it sound like you're giving the tune props every time someone asks you what it's called :)
The Brotherhood : Incredible
A little bit of UK for you! I think The Brotherhood (one Black, one White, one Jewish) only ever released the one full album ("Elementalz") but it did make a little noise at the time, and there were a few tunes that stood out for me - this was one, even though it was never a single. The beat by The Underdog is nice, the lyrics are no-fronting UK style all the way, but the thing that puts it over the top for me is the extra-dope cutting-up of the Buckshot Shorty line from "How Many Emcees" in the hook. Fire!
Organized Konfusion : Thirteen
You know how we do on this podcast, always digging in for those overlooked album track gems! Thirteen is my favourite number and a recurring one, and Pharoahe Monch has a connection with it too - as such, he solos it on this Organized Konfusion track from the 1994 "Stress : The Extinction Agenda" album in fine style! The beat is just straight 90s style all the way, from DITC's Buckwild - you can keep your synths!
Hexsagon : Wichita Lineman
Another cracking head-nodder from Arizona! From
Volume 4
of the "
Beat Flip Tuesdays
" beattape series, I think I wanted to play this a few months ago but found a better fit and decided to save it - glad I did as I think it's perfect for this spot :)
Jamie Lidell : A Little Bit More (Luke Vibert Remix)
I think I'd maybe only heard the name in passing when my mate Jonny started playing this remix when I'd see him playing at house parties; huge tune though! Had to do my research on this one - Jamie Lidell is a British singer who is apparently well-known for doing live multi-tracked beatbox tracks with a loop device, then singing over the top, something which is very difficult to do well! This track is from "Multiply Additions," a set of remixes based on his second album "Multiply" - well worth having! On the remix here we have Luke Vibert, a British legend in the electronic music scene, with a pretty much total replacement of the original sounds underlying the lead vocal - makes it a more conventional track in one way but the twisted beat really is its own animal. Deserved to be played right to the end.
---
Please remember to support the artists you like! The purpose of putting the podcast out and providing the full tracklist is to try and give some light, so do use the songs on each episode as a starting point to search out more material. If you have Spotify in your country it's a great way to explore, but otherwise there's always Youtube and the like. Seeing your favourite artists live is the best way to put money in their pockets, and buy the vinyl/CDs/downloads of the stuff you like the most!
---
Sun, 25 March 2012
Episode 34 : The Daily Politics
"All we do is drink, f***, and drive."
- Raekwon
As for our elected politicians...they just seem to drink, fight, and lie...for some reason they expect better of the rest of us! Anyway, back for another month with a pretty varied selection, from the sublime to the hostile. There are a few tracks people will definitely know (or ought to!) but I've pulled some pretty obscure ones out this month too.
As promised in the show audio - here are the pics from the last "In The Loop," where we seemed to be invaded by superheroes!
RIP Biggie Smalls & Trayvon Martin...
---
Playlist/Notes
Action Bronson : Muslim Wedding
I saw the title and wondered what it was about. As it turns out, not a thing to do with the title really :) Still, monster track with the Queens,NY chef/MC throwing down on a synth-heavy southern-flavoured track by Harry Fraud. Drive slow and swervy to this one...
Cliff Martinez : La Cagaste
Kind of ambient, awkward bar count and time signature...sounds like an excellent idea to put this into a mix! This is from the soundtrack to the excellent film "Traffic," and from the first time I saw the film I thought the music was amazing and so got the album. It's not one easy to get super-cheaply, and there are repeated motifs which Martinez keeps coming back to throughout so if you're looking for wild variation it might not be for you. I only knew of Cliff Martinez as a film composer but he was also the drummer for the Red Hot Chilli Peppers on their first album!
Skibeatz & Curren$y : Fly By
Ski/Skibeatz has featured on the podcast before mostly because of the brilliant production he's done for Camp Lo, and you may or may not know about how much he did on Jay-Z's "Reasonable Doubt." In the last few years he seems to have got a bit of a second wind and the album "Twilight" from which this is taken is the latest in the "24Hr Karate School" series (though the branding is low-key on this one). Nicely chilled track with New Orleans' Curren$y providing some laid-back braggadocio.
Super Cat ft. Biggie Smalls : Dolly My Baby (Extended Remix)
One of the early Biggie appearances - personally, I think he should have been on there longer than 3rd Eye (Jesse West) as he clearly had the better performance! Stars all over this one, with Mary J. Blige on the hook and of course the don dada Super Cat taking the lead. Hot 1993 single, essential pickup for all DJs - not a rare one, I've seen copies online for £4 or so - don't miss out!
Blue Raspberry : Outta Bounds
Easily my favourite of all the Wu singers, Blue Raspberry seemed to drop out of sight for the most part after Raekwon's "...Cuban Linx..." album, after bringing the house down on "Rainy Dayz" (one of my top songs of all time, any genre). I heard a snippet of a song by her ("It's Time," I think?) years ago in the RealAudio era, but never found a copy, or much else. It seems there was a 2005 album "Out Of The Blue" but I've never even seen a copy for sale! A while ago I thought I'd type her name into Spotify and it came back with this track, from a compliation called "Wu-nited States" :) - not sure how old it is, but she certainly lets those lungs blast on here! I hope to hear more...
Casual : Say That Then
A great and underrated MC from the Hieroglyphics camp, Casual has been doing his thing low-key for years. On this cut from the "Smash Rockwell" LP, he teamed with the ever-original New York producer J-Zone for the kind of sound that no-one else can pull off. I forgot all about this one until I was picking out records for an appearance on the C'mon Feet Elements show a while back - pulled it off the shelf and when I put it on I couldn't believe I hadn't been playing it more! Cross-country funk.
Hexsagon : Yesterday
Arizona stand up! Hexsagon's back with a new selection; the fourth volume of the "Beat Flip Tuesdays" collections has recently been released, and it's packed with quality sampler work! This one was perfect for setting off the next selection, so it got the nod, but if you get the whole set you'll find a lot of fresh beats besides!
Innerzone Orchestra : People Make The World Go Round (J88 Remix)
Killer Dilla remix! The original track wasn't that different, but was pretty drum-deficient. Dilla fixes that and makes it a wicked track. Innerzone Orchestra is an alias of the techno producer Carl Craig, but he shows that he can get down on the soulful tip on this track; the 12" I have is pretty light on credits so I'm not sure who's on vocal. The song itself is a cover version of a track by The Stylistics, which was also famously covered by...
Michael Jackson : People Make The World Go Round
...the legend from Gary, Indiana! This version is from his solo/soundtrack album "Ben" and he puts in the kind of quality vocal performance you'd expect. Not an obvious track to sample, but just a snatch of it turns up on...
Mobb Deep : Apostle's Warning
...and that's why Havoc is Havoc. The prince of dark production out of Queensbridge takes just a tiny snatch of the MJ track to add some atmosphere at the start and end of the tune, but the rest of it is just the kind of crunchy, evil style that he made his mark with. He also starts off the lyrics nicely, but Prodigy...kills it. No hook, no hesitation, no heartbreak 808 business - just bar after bar of the rawness. If you want more, you need to check the rest of the "Hell On Earth" LP, a masterpiece of 90s street Hip-Hop.
Wu-Tang Clan : One Of These Days
Underrated track in my opinion, taken from the Wu's "Iron Flag" LP. As someone who was pretty lukewarm on "The W," I thought there were quite a few good tunes on this album! Production on this one is handled by Nick Fury, and the guitar/horn combo just works really well, very clean sonically but funky as hell. Everyone on the mic comes off too. If you'd pushed this album to the back of your racks, give it another chance!
Basement Khemist : Vibrate
Great cut - 1999 12" release on Beyond Real. I think Basement Khemist only ever put out two or three 12" singles, never an album, but at the end of the day, why force it? Anyway, I'm a big fan of this one - DJ Spinna brings the production, and while the beat is quality it's actually the cutting up of L'il Dap's rhymes from "Supa Star" in the hook which gets this one the rewind credentials. Dope.
[Alchemist] Capone-N-Noreaga ft. Foxy Brown : Bang Bang (Instrumental)
If it sounds like something from the score to a late 70s/early 80s crime flick, the odds are fairly good it's an Alchemist beat! This is from a limited 12" I got after entering a DMC heat (believe it or not!), but the original is from CNN's "The Reunion" album - it's not an album you have to have but it's not bad.
The Notorious B.I.G. : Machine Gun Funk (Live)
Ok, he's rhyming over the vocal track which is never ideal but still, a live version of one of my favourite tracks from the first album. I got this on a white label 12" labelled "Live In London" - not sure exactly when it was recorded or how it found its way onto vinyl, but it's worth a pickup if you see it!
Mr. Khaliyl ft. Pharoahe Monch & DCQ : Street Team
I only realised recently that Mr.Khaliyl is actually Mister Man from Da Bush Babees - back to school for me! That's a good piece of 90s Hip-Hop trivia :) He comes out hard here both lyrically and on the boards on this 2001 Rawkus 12" (this is the B-side to "Wages [Of Sin]") with DCQ of Medina Green and Pharoahe Monch contributing guest verses. Predictable. Pharoahe melts the mic down to close the track. Was it really going to end any other way?
DJ JS-1 ft. Akrobatik, J-Live, Supastition & Pack FM : Too Easy
Dug this one up from a solid enough album which I actually wasn't as much into as I hoped I would be when I bought it. Still though, this is a wicked track - the MC lineup is quality, and while they all drop some serious lyrics I think J-Live's basketball-metaphor verse is the standout for me. Just slays it.
Bumpy Knuckles : Inspired By Fire
Rugged but still clean enough for radio! Bumpy Knuckles drops some jewels for the kids on a short cut from the "StoodioTyme" digital-only EP, completely produced by DJ Premier and serving as a warm-up for the "Kolexxxion" album which is due to be released soon. If you like that real, no-nonsense boom-bap with tough lyrics, that might just be the release of the year!
Apple Juice Kid : Tears
Brand new, just released at the start of the month - Apple Juice Kid, who I first heard of doing production on Camp Lo's "Stone & Rob : Caught On Tape" was tapped to provide the score to "Poetic Portraits Of A Revolution," which explores the Arab Spring. The result worked well I think, a good listen and for a good price - if you like film scores, it's definitely worth giving this a check; as you'd expect, they're very much Hip-Hop beats with a strong Middle Eastern influence. I couldn't make my favourite fit into the selection this month...if you get the whole album, see if you can guess which one it might me!
Tanya Morgan : Stay Tuned (Sunset Version)
Phenomenal track. I admit I was late on the whole Tanya Morgan catalogue (only knew bits and pieces) but heard this tune this month and flipped out - brilliantly put together. Von Pea presents one of the cleverest sample uses I've heard in a while - after the verses finish, letting the original track just seamlessly play on at the repitched speed, then chops up the start of the second verse of the sample as it comes in, effectively creating a slightly-darker remix of the original. Just listen, that's all I can say...and I think this was on their very first EP!
---
Please remember to support the artists you like! The purpose of putting the podcast out and providing the full tracklist is to try and give some light, so do use the songs on each episode as a starting point to search out more material. If you have Spotify in your country it's a great way to explore, but otherwise there's always Youtube and the like. Seeing your favourite artists live is the best way to put money in their pockets, and buy the vinyl/CDs/downloads of the stuff you like the most!
---
Mon, 23 January 2012
Episode 32 : EMT (Exquisite Musical Taste)
"...saliva and hand gestures..."
- Big Dubez
Happy New Year! Hope you all have a great 2012. The first episode for the year is one of those where if anyone knows every single track, I'll be very surprised. Definitely had fun with this selection - grew from one blend that popped into my head and just grew outwards from there...
Shout out to Jay Subterranea aka Jim Underground for donating the fresh chopping board in the cover art! As a DJ I mix and cut on the turntables, now I can take that style to the kitchen ;)
Quite a few links to throw up - not a regular thing as such but there are a number of events I want to mention right now;
---
Playlist/Notes
Yo-Yo : Mama Don't Take No Mess
Ladies first! A standout track from the "Boyz N The Hood" soundtrack, a compilation I'm definitely going to be revisiting in a future episode. Yo-Yo came out from under Ice Cube's wing on the track "It's A Man's World," going head-to-head with the west coast legend in a battle of the sexes on wax. She's from the era where skills were judged before appearance, definitely. I'm not going to front, I thought Yo-Yo was hot back then though - check the "Paint The White House Black" video. Ah, b-boy crushes... anyway, back to the present! Yo-Yo writes a great lyrical portrait of her strong mother and the upbringing she gave to her children, and production is by DJ Pooh and Rashad - funk-filled for real. 22 years old this cut...time flies!
[Rockwilder] Busta Rhymes : Do It Like Never Before (Instrumental)
Kind of awkward, kind of off-beat...yeah, nice choice to try and blend with! Nice Rockwilder beat though, strictly B-Side from the flip-side of "Do The Bus-A-Bus;" that track was on the "E.L.E : Extinction Level Event" album.
Michael Jackson : Speed Demon
Well, why not? The blend between this and the next tune was the seed for this episode. This isn't the tune that people bring up when talking about the "Bad" album, but I always loved it - it also inspired a memorable sequence in the "Moonwalker" film! Apparently this tune came about after MJ was stopped for speeding on the way to a studio session; Quincy Jones suggested he wrote down how he felt about it, and eventually it became the inspiration for the song. Nice bit of production there, Q :)
Ice-T : Drama
I was put up on this tune back in high school by my man Justin, one of the vanishingly small number of heads I met in my time there! I knew about the "OG : Original Gangster" album which had just been released but he knew about all the older Ice-T and so I have to thank him for hooking me up back then. (Note to the artist : I have since bought all those albums, so it all worked out!) Hugely overlooked track from the "Power" LP, this was never a single and is rarely mentioned. It's classic Ice-T - the crime story on most of the track, and then the downfall/moral at the end; if you like, the sugar and the medicine together. I always thought the production was incredible too, with the drum machine programming over the 303-type melody/bassline. Appreciate this, and then go and get that second album if you haven't already!
Genaside II : Waistline Firecracker
I almost feel bad including this tune as the first track I've played from these guys as I like some of their other so much more, but on the other hand it's the first one I ever heard so maybe it's right! I can't tell you too much about the group other than these snippets; they were from London, almost certainly the first UK act to work with any Wu members, and in style covered the spectrum from rave & drum 'n' bass to Hip-Hop. Their "New Life IV The Hunted" album is very difficult to describe, especially without resorting to cliche, but let me just say that it's always got play from me from the time it was released in 1996 right up to now. If you can find it, get it. This track was one of the lead singles, and rightly so; unique production, and serious gun chat over the top with the right amount of theatre to match.
dead prez : I'm A African
When it comes to dead prez, I think I'll always look to their first album (from which this is taken) as the overall best summation of what they're about, despite most of it being quite a big change in production style from some of their earlier work. Unashamedly pro-Black and anti-capitalist, they shook things up with the "Let's Get Free" album and one of the standouts for me was this early cut; certainly one of the most forthright declarations of being African since the Afrocentric Hip-Hop era. Hedrush and dead prez soundtrack their message with a speaker-smacking track, with drums coming from just about everywhere. Winner.
Kev Brown : Multiply (Instrumental)
The kind of dopeness you expect coming from the low-key, Low Budget representative. Got this from his official Instrumentals LP on Bandcamp, where he shows once again that Maryland shouldn't just be thought of for the university and the cookies :) How can you hate on this beat? Can't be done.
Sporty Thievz : Street Cinema 2
Remember these guys? For 90% of you that have, that'll be due to "No Pigeons," this Yonkers group's response to TLC's "No Scrubs." Actually, it just popped into my head that strangely, both groups were trios who lost one member in tragic accidents; such a shame. This is a great tune from the Thievz, been getting a lot of play in my headphones over the last few months; heard it randomly on Spotify, then tried to find a copy I could play. Was it on the "Street Cinema" album? Nope. I got it on an unofficial-looking 12", with "Enemies Of Hate" on the flip. The beat is nuts, Pete Rock rocking the Mardi Gras bells in a major way with lots of dope bassline action, and just a great amount of space between all the elements. On the mic, Marlon Brando (RIP) and King Kirk come through with low-key but attitude-filled deliveries - just a really cold overlay - and Big Dubez amps up the energy on the last verse, with the first four bars making me laugh out loud for real! Shame this track is so little known, but at least it's here for you guys!
NYGz : Policy
Premo beat. Straight away that should be enough to hook you in. Rugged tune which sounds slightly off-beat but all the better for it. Panch & Sha get busy on here, one of the early tracks from the Year Round Records "Get Used To Us" compilation. If you like this, you know you've got at least a little taste for that no-nonsense, meat & potatoes Hip-Hop :)
Skitz & Rootz Manuva : Blessed Be The Manner
Roots Manuva has really blossomed into a worldwide star for those that know, but this kind of style is always the version I enjoyed him rocking the most. Shout to Dave The Ruf - first heard this on one of his Radio Zero tapes! When it comes to the beef beat, the man Skitz, one of the UK's finest, gave him a track he could really shine on. Has Skitz ever made a bad beat, ever? Nice 12" on Ronin Records with "Where My Mind Is At" on the other side.
J-Live : How Real It Is
J-Live is one of the greatest all-around talents in Hip-Hop, with skills on the mic, the turntables and behind the boards - a true triple threat. All things considered, he may just be strongest on the lyrics, and this is just one of the many hot tracks he's laced over the years. J and Jay Money collaborate on the production, bringing in a small band to provide the instrumentation underlying this killer from the essential "All Of The Above" album. Do not sleep.
The Detroit Experiment : Vernors
The Detroit Experiment was a collaborative project between a number of notables - snuck up on me, I can't even remember where I heard this first, but it got a lot of play before I got a legit MP3 version. This isn't on Spotify unfortunately but if you get a chance to check the whole album, do. As far as this track, it's all about that beat switch halfway through...
J Dilla ft. Ta'Raach : Say It!
Great Dilla beat, light on the top but smacking it underneath! One from the "Jay Love Japan" release, or the version I have at least. I think going back-to-back Detroit here was a good move, hope you enjoy it also!
Freeway ft. Allen Anthony : Alright
Allen Anthony : Alright (Blackbeard Re-edit)
An entwined history for these two tracks! The original had the beat from the first tune, but the lyrics from the second - it was Allen Anthony's track. However, it became much better known after a different version was released with Freeway taking centre stage (and somewhat going off-topic with the lyrics, I might add) and Anthony sidelined to hook duty. Finally, the second track here was the A-side of two Blackbeard remixes/re-edits of these two tunes. Despite this, it was the first version I heard, on an MP3 from somewhere - absolutely loved it. I had no joy finding a vinyl until my man DJ A-Up found a copy for my birthday one year! Big props. Musically, Just Blaze (on the Freeway version) and Blackbeard (on the Allen Anthony track here) both catch wreck with their takes on the Ronnie Foster "Mystic Brew" sample, best known to the Hip-Hop nation for its use on A Tribe Called Quest's "Electric Relaxation." Struggle music. PS - check the video links above; both of them were great in my opinion.
Basic Vocab : Likeness
On the low, Miami has some guys who really do it, even though it's not thought of as a traditional Hip-Hop hotbed. (Someone's going to mention Rick Ross here, but I'm yet to be convinced). BV are a three-man crew with Mental Growth and JL Sorell on the mic and Tony Galvin on production, and I've got a few tunes of theirs on 12" which are nice to have. You can't front on solid beats and solid rhymes, and this tune has a classic east coast Hip-Hop sound, no question.
K-Def : Yeah Def
You should already know about K-Def, I told you months ago ;) One of the many dope tracks on the very little known but extremely good "Willie Boo Boo The Fool" instrumental LP. The real heads want to have that one in the collection, especially if you're into making beats; good source of inspiration!
Dean Atta : I Am Nobody's Nigger
Not Hip-Hop, but unquestionably one of the big noisemakers of the last month. After an 18-year wait, two people were finally convicted for their parts in the racist murder of Black teenager Stephen Lawrence in 1993. For those that doubted whether race was the motive, the attack was reportedly preceded by a challenge of "What, what, nigger?" from one of the killers. Taking inspiration from the fact that that hateful word was one of the last he ever heard (a though I've often had about other Black people), the London spoken word poet Dean Atta wrote a great piece blasting its casual use. He posted it on the Internet and it spread like wildfire, sparking discussion and prompting a number of people to try and set it to music. While I liked it in its raw form, this version constructed by Si Tew is one of Dean's favourites, so I've gone with it to close the show, and hopefully make people think. It's a word I never use - it'd be nice to think that this poem might just make other people check their speech in future.
---
Please remember to support the artists you like! The purpose of putting the podcast out and providing the full tracklist is to try and give some light, so do use the songs on each episode as a starting point to search out more material. If you have Spotify in your country it's a great way to explore, but otherwise there's always Youtube and the like. Seeing your favourite artists live is the best way to put money in their pockets, and buy the vinyl/CDs/downloads of the stuff you like the most!
---
Thu, 22 December 2011
Episode 31 : Cold Chillin'. Seriously.
"...let the whole town see my crown."
- Silver
Out in time for Christmas, my present to everyone - a sack of heavy tunes and not a lump of coal in sight! Glad to be able to get this one uploaded before a few days of lie-ins, nice food, and putting the day job out of my mind. Wrap up warm, turn the volume up, and check it...
---
Playlist/Notes
Illegal ft. Erick Sermon : We Getz Buzy
Get well Erick Sermon! The Funk Lord smashes it on this 93 low-slung headnodder, with the beat centred around that basic but undeniable bassline and then dropping in to contribute a quick verse at the end. The headliners though are the then-child MCs Jamal and Mr Malik, who go at pretty much every underage MC who was out at the time! They'd have ripped Soulja Boy a new one, that's for sure. Killer tune from their "The Untold Truth" album which is worth hearing for the excellent 90s production if nothing else!
[M-Boogie] Buckshot : The Real (Instrumental)
One of those singles you buy on spec on the strength of the personnel but which never seems to see the light of day once it gets home! Thought I'd include it here because for every tune someone thinks average, there's someone who thinks it's amazing and has probably been looking for it for ages :) For me, solid, not spectacular, but fit the space here nicely.
J-Zone : Root For The Villain (excerpt)
Just a short clip from the exclusive cassette audiobook of the brilliant J-Zone book; read it this month and enjoyed every page. Recommended - get yours here or here!
Jay-Z & Kanye West : New Day
I definitely think "Watch The Throne" was overrated (here's what my "Watch The Throne EP" would have had on it), but this was one of the tracks I think deserved the praise. Of course, that means it has zero chance of being a single. RZA, Kanye and Mike Dean craft a reflective track which perfectly fits the theme of two men speaking to their unborn sons. Great heartfelt, grown-man lyrics - love it. This is the kind of track your "Young/Yung <whoever>" rappers could never write.
Special Teamz ft Devin The Dude : Long Time Comin
After hearing the similarity in the first two beats between this and "New Day," there was no way I wasn't playing it this episode! Special Teamz is the combination of Edo G, Slaine & Jaysaun, a Boston supergroup if you will. All of them are no-frills on the mic and they pass the hook duties over to the underrated Houston legend Devin The Dude - can't help but smile when you hear his voice! This is from their 2007 album "Stereotypez" which is worth a listen if you see it around! Production by Xplicit, who slipped under my radar a little but has some decent credits. Hell, he did a beat for Large Pro!
Cesar Comanche ft. Eternia : Up And Down
One of the original Justus League MCs, Cesar is just one of those low-key, consistent guys who you know is never going to drop foolishness on the mic. Positive, uplifting lyrics alongside Eternia on this 2005 12", and 9th Wonder is on production with his signature style. Vinyl collectors should look at getting this partly for this track but also for the ill B-side "Jacob's Ladder," produced by Nicolay - very nice.
Analog Brothers : Perms, Baldheads, Afros, & Dreds
Not in any way connected to the fact I watched and loved Chris Rock's "Good Hair" this month! The Analog Brothers were a one-album combination of Ice-T, Kool Keith, Marc Live, Black Silver and Pimp Rex - and that "Pimp To Eat" album is one you want to get if you like the crazy Octagon-style flow, pimp talk, futuristic references and keyboard bass! There were other tracks that grabbed me first but when the lightbulb went on with this one it became the absolute favourite.
Oddisee : Curl
DMV native Oddisee is someone I became familiar with via his work with guys like Kev Brown, but I only found the album this came from ("Oddisee West Coast Beats") while browsing Bandcamp looking for beats! The whole album is dripping with West Coast funk flavour, Zapp samples and all, and for only a minimum price of $1, I'd consider it an essential purchase - probably will sound better in the summer though :)
Stevie Wonder : Have A Talk With God
What can you say? It's Stevie Wonder, the legend! Love the keyboard flavour on this, taken from the massive "Songs In The Key Of Life" album. That album is testament to taking your time to get things just right; it was supposed to come out much earlier than it did but it was held up basically until Stevie felt it was done. If it had met the deadline, would it still be a classic?
Geto Boys ft. 3-2 : Straight Gangstaism
Big shout to Selina of Jelly Empire for sorting me out with a copy of this; I just couldn't get hold of a copy in the UK fast enough to ensure I could include it this month! This is from that weird period where Scarface left the Geto Boys, and was replaced by Big Mike. With him taking the first two verses and 3-2 taking the closer, many people wouldn't immediately recognise this as a Geto Boys tune at all unless they knew it! Not sure exactly who produced it, but a look on Discogs suggests a combination of Mike Dean, Bido, NO Joe and Tony Randle. Dope anyway.
Pusha T : My God
The beat is from Hit-Boy, who was also responsible for one of my most hated songs of the last year at least - "...Paris" from Watch The Throne. Hated it. Credit where it's due though, he brings it heavy on this track with that military-style drumline and when the church organs crackle into life it's a wrap. On the mic is the younger half of Clipse, who may not be in line for NAACP Image Awards anytime soon but has rhymes for days and days. Recent track this one, only released this year as Pusha's first solo piece - heard it when it came out and then on the "Fear Of God II : Let Us Pray" mixtape; definitely the standout on there.
Leftfield ft. Nicole Willis : Swords
I was one of those people who didn't like the "Rhythm & Stealth" LP as much as "Leftism," but this track here was a phenomenal standout. Leftfield have been in trouble more than once for the volume of their live shows, so in tribute crank this one all the way up! PS - interesting video concept too...
[Buckwild] O.C. : Burn Me Slow (Inst)
DITC action here on the lead track from the "Still Diggin' Composition EP," nice piano beat from Buckwild - unfortunately you miss out on O.C's lyrics here, but all the more reason to go and find a copy...
Co$$ : Kill 'Em All
I first got up on Co$$ after hearing him on "Pay The Co$$" on Exile's "Dirty Science" album, which was one of my favourite cuts on that project. Since then I've been following him via his Facebook Page and when I saw he had done a digital release of his "Instrument Of Emotion" album, I grabbed myself a copy for a bargain $3! Coming out of Leimert Park, Los Angeles (same area as Dom Kennedy, to name one), he's part of the new wave of Cali MCs emerging in recent years - keep an eye on him.
Rise : Do You Know Him?
I know very little about Rise other than the fact that he's certainly benefited from getting DJ Spinna beats in the past and he does so again here - cheeky lyrics on the braggadocio tip, definitely entertaining. I'd recommend picking this up but I'd never seen it before until I chanced on it on a record-shopping trip to London - there may not be many copies of this 12" floating around!
Asaviour ft. Kyza & Yungun : Money In The Bank (Remix)
Undeniably classic British 12"! I think of this as being "recent" (well, ish) but it's a 2004 track - always up for playing it though! Asaviour's a Yorkshire-born MC who came through Manchester and finally relocated to London, working with guys like Manchester's own Microdisiacs along the way. Here he throws down with Terra Firma's Kyza and the always-welcome Yungun on a heavy Jehst beat, with DJ IQ bringing the cuts. Sampling "Top Billin'" will never get old.
[Memo] Rasco : Gunz Still Hot (Remix Instrumental)
Just a nice headnodder, it doesn't hide from what is is! The vocal version has a Boston connection with Edo G and Reks both guesting alongside San Francisco's Rasco. B-side dopeness on the flip of the "Thin Line" single.
Eazy-E ft. Atbann Klann, Buckwheat, & Menajahwta : Merry Muthafuckin' Xmas
I hate most Christmas songs. This time of year though, there's no escaping them - every shop, on TV, on the radio, they keep coming back like some kind of chronic illness. At a time like this, there's no option but to reach for a Christmas song that offends everyone else. Only the late Eazy-E could give you a song like this! The final track on the "5150 : Home 4 Tha Sick," Eazy and friends give you a medley of filthy festive lyrics. Oh, and Atbann Klann? They must have suffered an allergic reaction and became...
---
Please remember to support the artists you like! The purpose of putting the podcast out and providing the full tracklist is to try and give some light, so do use the songs on each episode as a starting point to search out more material. If you have Spotify in your country it's a great way to explore, but otherwise there's always Youtube and the like. Seeing your favourite artists live is the best way to put money in their pockets, and buy the vinyl/CDs/downloads of the stuff you like the most!
---
Wed, 30 November 2011
Episode 30 : Nameless Thugs, Aimless Slugs
"When I walk through I set off all sprinkler systems..."
- Trife
Two and a half years of episodes in the can now! Grateful to still have an audience after all this time :) This month I've got a few left-field unexpected picks, some stuff you won't know (yes, you), and some old favourites including a track by the late, great Heavy D who passed on November 8th.
In other news...
Catch me at the Badman Ting Charity Fundraiser on December 9th - it's mostly a D&B affair but in the back room I'll be doing a Hip-Hop set alongside some great DJs, and also donating a print of one of my photos as a prize for the tombola - please give generously :)
Shout out to Watch Deez - as I say on the voiceover, his new "Dream With Open Eyes" tape is a nice relaxing collection - have a listen here!
---
Playlist/Notes
Ghostface Killah & Trife : Fire
Big favourite from the "Put It On The Line" LP. The opening voice sample sets it off and the escalating guitar sample works brilliantly underneath the lyrics. Not much else to say about this one, except I've been waiting ages to get it in at the start of an episode and other things kept taking its place - not this time though!
[Alchemist] Poverty : Life Sucks (Instrumental)
One of those random 12"s I picked up because it was cheap and the production credit looked interesting! It didn't jump me out of my seat, but on the vocal version Poverty definitely does his thing - you just have to be in the right mood for it! I didn't know much about him at all, but he hails from Portland, ME and had a hard time - living on the streets and in shelters - before getting his break. The beat is from Alchemist, who is a master of the dark style and so hits the mark here when it comes to matching the theme.
J-Zone : Bling Around The Collar (Fake Gold Chain)
For me, one of the biggest, most entertaining personalities in Hip-Hop - but don't get confused by the humour, the lyrical skill and musical quality is always on point. He goes biographical on this one with a classic tale about coming out in fake jewellery back in the days, on top of a crazy piece of sample work; there's just no-one who makes beats like him. This is taken from the "$ick Of Bein' Rich" album, another quality Zone release. I just realised this was a 2003 record, which is crazy as I still bump it like it came out last week!
Wreckonize : Who's The Man?
From Miami, and with some bass, but not Miami Bass, comes the energetic Wreckonize. While looking up background info, I found out he was actually born in London but has been in the US since childhood, so any trace of a British accent is long gone! DJ Spinna on the production for this one - I shouldn't have to say any more, your ears will tell you all you need to know.
Heavy D & The Boyz : Who's The Man?
Same title, different tune - probably my favourite from the late, great Heavy D, an early 90s jeep-rattler of a track. The man from Mount Vernon flows with confidence with that unmistakeable voice, and Tony Dofat provides the production to go along with it. Like the next track in selection, I remember this one from the days in Leeds listening to the guys on pirate radio playing the quality stuff - was glad to get a vinyl of it a while back. RIP Dwight Myers.
Black Moon : Who Got The Props? (MW Smooth Mix)
Brooklyyyyyyn! The original version of this track was one of the most "what the hell was THAT?!" tunes from my teenage years when the man P-Wiz first played it on Supreme Radio in Leeds, and when I eventually found out the title I bought it the second the import 12" became available. Even though my funds were limited, and at £7.49 it was damn near the cost of an album, it was a must-own and remains so. The B-side was "F*** It Up" but the final B-side track was this remix, taking the same underlying sample but switching the drums. Evil Dee did the original and he (along with the rest of the group) actually hate this remix, which was done by Mike Weiss (owner of Nervous Records) and Schlomo. The original is definitely better to my ears but I don't mind this version, and it made for a much better blend here.
Camp Lo : Future
Tucked away at the tail end of what I think is the seriously underrated "Stone And Rob : Caught On Tape" release - I can't think of anything that sounds quite like it! The Bronx boys give you the usual slangy, back-and-forth vocal stylings, and the Apple Juice Kid is on the beat. Check how they channel Curtis Mayfield on the hook too...
Hans Zimmer : Bakara
Bit left-field in comparison to the tracks preceding it, but it blended so well I had to use it :) Hans Zimmer is one of the world's foremost film score composers, with more than 100 to his credit - from "As Good As It Gets" to "The Thin Red Line" and plenty more, as well as games like "CoD : Modern Warfare 2" and "Crysis 2." This particular track is from the "Black Hawk Down" score, and makes a good background to games of "Goldeneye" :) Nice album, not necessarily an essential purchase but if you see it for a good price and like instrumental stuff, pick it up.
The Intruders : Cowboys To Girls
One of the many records I have liberated from my parents' collection over the years :) The Intruders were an influential four-man soul group out of Philadelphia who had hits working with Gamble & Huff - in fact, they were the first group to do so, yet they are rarely mentioned! This particular track was a 1968 release which went as high as #6 on the US pop charts; only a snippet here but it shouldn't be hard to find a copy of the whole thing.
Big Noyd : Shoot 'Em Up (Bang Bang), Pt.1
Here we come to the flip of the above track - kind of bumps along with the way it's put together, and weaves the key bits of the vocal into the track with Noyd leaving space for them to come through. As with the second version, you can find this on the "Only The Strong" LP - not a "must own" but a solid enough album.
The Deele : Shoot 'Em Up Movies
Yes, serious cheese! Let me just say now that the phrase "all at once" is used inappropriately and far too many times in this song - must have been having an off-day on the lyrics! The Deele came out of Cincinnati in the 80s, and produced two breakout production and songwriting stars in L.A. Reid and Babyface (who also had a solo career as an artist). This tune is from their third album, though I got it on a "Best Of" compilation, and it was a big hit for them - been sampled a few times as well. A bit on the soft side for me but not without a certain charm!
Big Noyd ft. Mobb Deep : Shoot 'Em Up (Bang Bang), Pt.2
Definitely my preferred version of this track - brilliant sample flip and has just the right kind of pace and feel for me with the stabs and all the added handclaps; I think the vocal samples in this version work a little better than in the first one too. Nasty!
Air Adam : Key Ring
So-titled because of the little keyboard sound I put in there. This beat isn't properly mixed or anything, but just provides a little bridge from which I can blend into the next track...
Elzhi : Hands Up
Somehow managed to overlook this track on the "The Preface" album the first time round, then I heard it on shuffle in the gym and it smacked me in the face! My word, this is that real hardness. An all-Detroit affair, Black Milk on production gives you the ominous thumping, droning beat while Elzhi kicks some quality storytelling from the point of view of the low-end armed robber - top-notch writing. Don't get confused and think he's glorifying it though...it doesn't end well!
730 : 13th Commandment
Love that sample that the track's based around! I picked this up in London if I remember correctly, just on the strength of seeing that Lord Tariq was involved; from looking around it seems that 730 is the combination of Lord Tariz, Peter Gunz, and Cory Gunz (son of Peter). Despite that, it's a long way from "Deja Vu!" Lord Tariq's opening verse is the lyrical high point here, the flow is crazy. The only thing is that I wish they hadn't bothered with those horns in the hook - slightly on the corny side for my taste...
Beatnuts : Out Of State Case (Instrumental)
Got this on the "Hydrabeats 5" vinyl, just a collection of instrumentals I picked up many moons ago. This is a 1997 release on Hydra Entertainment, 12 tracks of Beatnuts-produced instrumentals - definitely worth having for mixtapes if you're a Hip-Hop DJ.
Onra : Send Me Your Love
A selection from Onra's 80s-flavoured "Long Distance" LP - a glittery but soulful MPC1000-programmed beat. If you like the sound of this at all, I'd definitely recommend getting yourself a copy of the album! I've been revisiting it lately and it's a really nice release.
Ras Kass : Won't Catch Me Runnin' (Moet Mix)
This was the first version of this track I heard, and I definitely prefer it to the original; a sample I won't reveal here stands alone as the intro before the drums come in to meet it, then continues in normal and filtered form throughout. Bird, the producer, who I must say I've not heard of elsewhere, definitely cooks up a beautiful track. Lyrically, this is early Ras, before even the debut "Soul On Ice" album, bringing out that kind of alternative West Coast flavour in the vein of (approximate) contemporaries like the Hieroglyphics camp - just really dope. I'd only ever heard this on MP3 before I came across a copy earlier this month in Vinyl Exchange - snatched it up quick, worried about the price later :)
Akinyele : In The World
Such a favourite of mine from this era (1996 release), I feel like I'm putting too many treats on here but it goes along so well with the previous two tracks! A very underrated MC out of Queens, you might know him better from his verse on the legendary Main Source track "Live At The BBQ" or the hit "Put It In Your Mouth" (which truth be told, I never liked much). As it happens, this was one of the B-side tracks on the "Put It In Your Mouth" EP and just shines. Production is by DJ Enuff and Jiv Pos - what's mental is that I have the record they sampled, I've sampled it myself, and I *still* didn't recognise it straight away - they made it work, definitely!
DJ Quik : Let You Havit
Damn, why don't you just say how you feel? Seriously though, Compton's own DJ Quik goes in with vigour on this 1995 track from the "Safe + Sound" album, mainly aimed at then-longtime rival MC Eiht of Compton's Most Wanted (note: Quik says on this track that he's wack. He's not.) They were definitely going at each other back then but these days I've read it's all smoothed out. All the same, this is a serious track, catches you straight away with those tough, smacking drums and then turning into a P-Funk, G-Funk keyboard extravaganza, right into the extended outro. If you don't have this one, get your West Coast collection up to par :)
[Just Blaze] Beanie Sigel : Beanie (Mack Bitch) (Instrumental)
Another record with a really tough beat driving it, but a sharper, more angular keyboard vibe and the occasional bit of piano for the low end. Completely different side of Philly to the Intruders track! Just Blaze was killing it on this, one of five tracks he produced on Beanie's second album "The Reason" - from which the very first post on this blog took its name!
London Symphony Orchestra : John Henry
Beautiful piece of music. I first heard this on the opening sequence of Spike Lee's brilliant "He Got Game" - the music and the images together are actually very moving if you have a deep connection to the game. While Public Enemy provide all the songs for the film (definitely worth buying their soundtrack), the orchestral score comes from the London Symphony Orchestra playing the music of the American composer Aaron Copland. This particular piece tells the story of the folklore figure John Henry, a Black steel-driver on the railroads who according to the story raced a steam-powered hammer bought by the railway owner to replace all the human workers, with the agreement that if he beat the machine that his co-workers would keep their jobs; he wins, but the effort kills him in the end. I'm no expert, but I think the music really communicates the story well - might not be everyone's cup of tea but I think it's tremendous.
---
Please remember to support the artists you like! The purpose of putting the podcast out and providing the full tracklist is to try and give some light, so do use the songs on each episode as a starting point to search out more material. If you have Spotify in your country it's a great way to explore, but otherwise there's always Youtube and the like. Seeing your favourite artists live is the best way to put money in their pockets, and buy the vinyl/CDs/downloads of the stuff you like the most!
---
Sun, 30 October 2011
Episode 29 : The Collage Dropout*
"I am sworn to life, I am bound to death"
- Professor X
* (but never the college dropout)
Thought I'd take the opportunity to show a little something I did this month :o) As it happens, three of the acts on this photo collage are included in this month's selection. Which ones, you ask? Well, read the show notes for the detail!
RIP Dr Geraldine Connor...
---
Playlist/Notes
Bass-O-Matic : Fascinating Rhythm
Starting things off with a big UK chart hit from 1990 which I've never stopped listening to! Based on the same Soul Searchers "Ashley's Roachclip" sample as Eric B & Rakim's "Paid In Full," it's packed with flavour in a way I don't think a lot of modern chart music can match. I didn't realise until recently that the producer on this track was William Orbit, better known to most as the production brain behind Madonna's 1998 "Ray Of Light" album - big move from him there!
Eric B & Rakim : Paid In Full (Drums only)
Thought it'd be a nice blend to come into this track, sharing as it does the drum sample from the opener. If you don't recognise this straight away, just head out and get a copy of the 1987 "Paid In Full" album, and cleanse yourself :) PS ...am I the only person who liked "Chinese Arithmetic?"
X-Clan : In The Ways Of The Scales
Maybe the best use ever of the Tom Tom Club "Genius Of Love" sample, tucked away as the last track on the indisputably classic "To The East, Blackwards" LP. Even if X-Clan weren't the best group of the Afrocentric era of Hip-Hop, they could definitely put in a strong claim for being the funkiest! Made up of the late Professor X (son of Sonny Carson), the late Sugar Shaft on the wheels and Brother J (handling most of the mic time), they had a combination of consciousness and danceability which is yet to be matched. The album, their first, drips with so much quality it's just ridiculous - a "must own."
New Flesh ft. Blackitude : Stick & Move
UK UK! Bassline action on this killer from the "Understanding" album produced by legendary UK graf writer Part 2 (York stand up!); I once heard he picked up some of his first production pointers many moons ago from DJ Greenpeace, who was also a great influence on my record buying as a teen! New Flesh (originally New Flesh For Old) were definitely unafraid to be original from the moment they came out, and in my opinion managed to do "futuristic" sounding tracks before there was any such thing as "future beats." This track is one of their more dancefloor-ready pieces, but check the albums to get an idea of the full scope of their sound - "Equilibrium" is the place to start, with that being the beginning...if you like the more technical, abstract sound, it'll be right up your alley.
Ice Cube : My Summer Vacation
Underrated to a ridiculous degree. For me this is one of the standouts of Ice Cube's sophomore "Death Certificate" album; the production (by DJ Pooh, Bobcat, & Rashad) is just ridiculously dope and Cube takes the mobbed-out, gangsta-funkin' track to spin a tale of a gang who leave LA to do business elsewhere...and things just go downhill from there. The topic of this song is serious - Ice Cube was rhyming about the spread of the LA gangs to other parts of the country when it was by many accounts barely getting underway. From what I've read, there were many reasons - from copycats, to members being sent out of the city by their families in an attempt to get them out of the firing line; as I say, that's what I've read and heard - you'd have to check with an expert though.
Foreign Legion : Voodoo Star
Changing the mood on this track, though it quite handily capitalises on the "my life is f**ked" ending of the track before (I'm saying that like I didn't choose the order!) Can't remember when I picked this one up but it was cheap as I remember and sometimes it's worth taking a chance on a tune. Not a huge fan of the semi-sung hook but in truth it does fit, and overall it's a strong package - funny rhymes from Prozack and Marc Stretch, good production, and a few cuts for good measure (from DJ Design, who also did the beat).
Gang Starr : Take A Rest (Instrumental)
I rarely pull out my white-label copy of the "Step In The Arena" instrumentals but flicked onto it while doing the selection and found that this track blended lovely with the preceding one so in it went :o) Hard to believe when listening to this beat (or any other on the same album) that DJ Premier once said he didn't have full confidence in the science of his production until "DWYCK" - I wish I could find the article where I read that!
Jasiri X : Occupy (We The 99)
Jasiri is his real name, and he's a member of the Nation Of Islam so the X is real too! A committed activist who also gets busy on the mic, Jasiri X has been behind such topical tracks as "What If The Tea Party Was Black?" and "Enough Is Enough." There aren't many young MCs right now hitting the issues of the day like him but he takes it all on and on this track, he gets into the grievances behind the Occupy movement. The strength comes not just from the lyrics but from the knowledge that it's not just posturing - he has the track record of speaking on social justice issues that lets you know it's not a cynical move. On top of all that, check the video - filmed at Occupy Wall Street and Occupy Pittsburgh.
Bumpy Knuckles : Pit In The Basement
Rugged tune that sounds like it should be the soundtrack for boxing training! Taken from the "Leaks, Vol.2" collection, it's just classic aggro Bumpy in fight mode. Definitely get both of the free "Leaks" mixtapes, turn them up, and try not to punch anyone in the face :o)
Grand Agent : Mingling Goes To Church (Shitake Monkey Remix)
I had this record (the "Fish Outta Water Remixes") hanging around for ages before I really had a proper listen, and when I first heard this track on there I couldn't believe how badly I'd slept on it! Over the years it's had a good number of outings in the record bag and really moves a big sound system. The well-travelled Philadelphia-native GA gets busy on the mic here regulating the garbage in the game, and the New York production crew Shitake Monkey absolutely smack it on the beat. Still haven't sussed out how the track got its title though...
Nine : Lyin' King
Underrated, and mostly unknown by people I know, this is a great 90s cut. Nine sets his stall out on the fakeness he doesn't like, and if the shoe fits, get a matching bag! Nine is probably best known for "Whutcha Want?" from the "Nine Livez" album (or, if you go back further, as 9mm on Funkmaster Flex's "Six Million Ways To Die") but this is from his second album "Cloud Nine." His go-to producer Rob Lewis is on the track - it's the little breakdown and the voice sample that I think really make the beat.
Hexsagon : How Can I Love You (Instrumental)
DJ A-Up put me up on Hexsagon originally, and after checking out some of his stuff on Bandcamp I grabbed a download purchase of the "Beat Flip Tuesdays, Volume 1" tape (I can't help it, it's always a tape to me!). A great talent coming out of Arizona, keep an ear out for this man!
Curren$y & The Alchemist : Smoke Break
So very dope (no pun intended). I think I first heard this on the DJ Lee Majors "Bitches Leave" mix (word to Clarence Boddicker) and then got myself a copy a while later. It feels like a semi-interlude, but there's enough going on to make you realise it's a full track - just short and sweet. Coming out of New Orleans and originally part of The 504 Boyz on No Limit Records, as well as having stints on Cash Money and Young Money, it's interesting to see how Curren$y has kind of remade himself and opened up an audience who never would have checked for him before. The star here for me though is Alchemist on the beat - it's hard but dreamy, with drums to die for. Definitely my favourite from the "Covert Coup" EP.
NYOIL : I Tried
NYOIL came out blasting on his first track under that name, the pull-no-punches "Y'all Should Get Lynched," done on zero budget but grabbing a huge reaction. That track was just the warning shot for the full "Hood Treason" album, where NYOIL spits his manifesto over an international selection of beats. This was an early favourite for me despite the someone out-of-place hook, and I think the sentiment is something a lot of people can empathise with; to me, the beat even sounds like someone carrying or dragging a heavy load! Obligatory trivia : NYOIL was originally Kool Kim of the UMCs - quite a style change!
Massive Attack ft. Liz Frazer : Teardrop
Fantastic, classis track - by all accounts, went through a lot of work putting it together but it must have felt worth it in the end when the result sounds like this. Taken from the "Mezzanine" album, Massive Attack's third, Liz Frazer of The Cocteau Twins is on the vocals but what I didn't know until I was researching this episode was that Madonna was originally in the frame to sing on this instead! That's two Madonna mentions in the show notes now...
Dom Kennedy : Menace Beach
Heard this first on the Combat Jack Show in one of the musical breaks but had to to some Googling to actually find what it was called and who had recorded it. From Leimert Park, Los Angeles, he's got a track here which at least in the production style reminds me of something NWA might have rhymed over back in the day, pre-"Straight Outta Compton" even! Great cut from the free "Future Street / Drug Sounds" mixtape.
Danny Drive Thru : Violence Makes
If you missed this man on episode 19, head back and hear some of his thoughts on production and hear some more of his stuff! A dedicated and talented producer, as well as one of the humblest guys you'll ever meet, Drive Thru has just released his "Psychedelia Smith" 7" (it took me a while to notice the pun) on Mind On Fire records but as usual, I headed for the B-side to pull out this low-tempo, mournful instrumental. Really good to see someone who deserves it coming up!
Funkadelic : The Song Is Familiar
Dopeness from the "Let's Take It To The Stage" album (great write-up on it here). When I first heard this, I knew a little about Parliament and how much they'd been sampled, and that Funkadelic were parts of the same movement, but I didn't realise how different the sound was. True to thje name, Funkadelic could come with that rockish, psychedelic kind of feel with the heavy amp flavour, and despite not being much of a rock fan at the time (aged about 15), the hook on this was enough to make me want to pull the air guitar out and set it on fire :)
---
Please remember to support the artists you like! The purpose of putting the podcast out and providing the full tracklist is to try and give some light, so do use the songs on each episode as a starting point to search out more material. If you have Spotify in your country it's a great way to explore, but otherwise there's always Youtube and the like. Seeing your favourite artists live is the best way to put money in their pockets, and buy the vinyl/CDs/downloads of the stuff you like the most!
---
Mon, 10 October 2011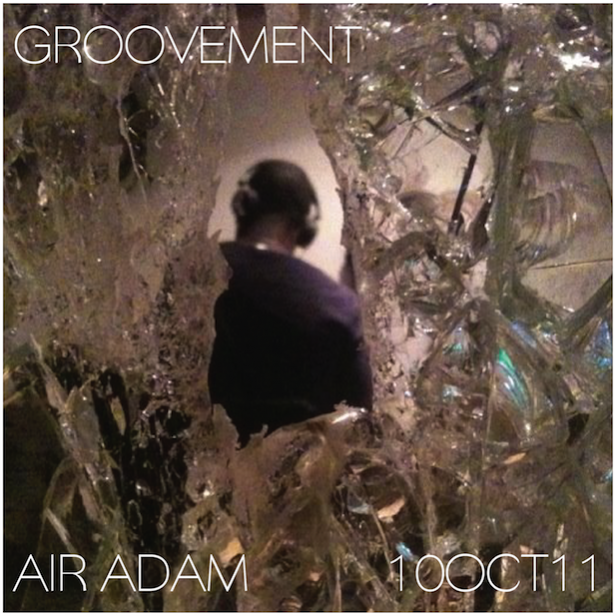 I was very honoured to be asked by Agent J to appear on Groovement, which is one of my favourite podcasts and should definitely be on your subscription list! I spent ages deciding what kind of tunes to take down to the session, knowing I was going to need as much as a couple of hours' worth; I hope you like them! It was nice to be able to give these an airing and to have a chat too - I was mostly intelligible, I think...
Click the pic to get to the download page on the Groovement site!
PS - If you've just arrived at this page as a result of going to Groovement, then thanks and welcome :o)
Category:
general
-- posted at: 6:14pm EDT
---
Thu, 29 September 2011
Episode 28 : Do Not Eject
"...as you sing your senseless songs to the mindless..."
- Chuck D
Got something of a theme this month - starting off really fast and bringing the speed down as we go through the episode; kind of like reverse club DJing! Got a bit of Public Enemy (saw them live again this month - they killed it, again), some great tunes from Manchester, and the usual selection of "I never heard that before" tracks to hopefully plant that digging bug in your head! Start playing this one in the gym and finish off driving at about 15mph under the speed limit...
---
Playlist/Notes
Suga Free & The Time : Cool
Starting things off with energy; I don't do drugs but the pace of this tune combined with the occasional high-pitched keyboard hits for some reason makes me think that this is what being extra-high in a club and dancing crazy must sound like! This is a semi-cover version of the original "Cool" from The Time's first album, with Suga Free spitting pimp talk all over a beefed-up version of the 1981 track. I got this as a download from the "The Features, Vol.2" compilation, would definitely love to have it on vinyl but I suppose Serato will have to do...
Cybotron : Clear
Great electro track from all the way back in 1982, one of the original records that started off what we now know as techno. Coming out of Detroit, Brian Davis and techno co-originator Juan Atkins combined to show just what could be done with all electronic instruments at a time when most people just couldn't see it. I dug a digital copy of this out after seeing it mentioned in the brilliant book "Last Night A DJ Saved My Life" and instantly recognised it - it's one of those tracks which soaks into your subconscious the first time you hear it and never goes away! For the younger generation, this should sound familiar as the basis of Missy Elliott's "Lose Control," and for those who follow Mobb Deep's ridiculous amount of unreleased material, this was used on the incredibly menacing "Everything's Cool" (find it if you can) - the producer slowed this track down and it gives it a really nasty edge.
Ice-T ft. Nat The Cat & Donald D : Fly-By
Huge favourite of mine, from Ice-T's masterpiece album "OG : Original Gangster" (essential purchase). Ice-T opens up strong, I learned Donald D's killer closing verse off by heart when I was in school, and Nat The Cat's middle section is amazing when you hear how he kicks that style over a beat that's right around 120BPM.
The Roots : Boom!
Woooooooy! Super-tough drumming from Questlove provides the bedding for one of the illest solo MC performances you'll hear anywhere. Yes, I said solo. Black Thought throws down a heavy first verse before switching into jaw-dropping impersonations of Big Daddy Kane and Kool G Rap on the other two verses! Rewind it, play it again, appreciate! Taken from the "The Tipping Point" album, which wasn't my favourite Roots release (though I greatly preferred it to "Phrenology") - my pick is still "Things Fall Apart," which you should already own if you listen to my recommendations :o)
Public Enemy : Caught, Can We Get A Witness?
Overlooked PE track from the certified classic "It Takes A Nation Of Millions To Hold Us Back" album, closing the first side nicely (well, unless you have the CD...) On the Bomb Squad track, Chuck D, never a man backwards in coming forwards, thunders down his thoughts on everything from sampling to the vacuousness of love songs. I say and say again, if Chuck D doesn't get mentioned in your list of all-time great MCs, your list is wrong.
Master Fuol & ODB : Wingworms
Brooklyn stand up! This tune is from Thirstin Howl III's "Licensed To Skill" album but as far as I can tell he's actually not on this track at all - instead, mic duties are handled by fellow Lo-Life Master Fuol and the late great Wu-Tang loose cannon ODB, basically both just talking crazy on the beat; I've also seen this one around titled as "Last Call." This track is definitely too little-known! I'll just leave you with a choice lyric; "fall on your butt, yo' ass gon' hurt." That's wisdom right there.
PMD : Back To Work (Instrumental)
I love it...it's just kind of awkward. Parrish Smith handled the production himself on this one - many people forget he does beats as well as rocking the mic - and it's dope, but just loops kind of oddly! As such, it's not a record I pull out often as it's strange to mix with, but as I didn't need to mix right at this point, I took the opportunity to include it - hate to see a good record go to waste!
Two-One : Swing
Local talent coming up with a big tune here! Manchester's Two-One is a skilled MC and producer who you might know from In The Loop and many other events besides. On this track, he showcases a confident flow over a tasty beat from Oldham's Kuartz who you'll have heard on the podcast previously. This was taken from the "Mathematics" EP which was a free download - no longer available, but I kept on at the man until I could get a copy of this to play you :o) Keep an eye out for more material from Two-One here and Kuartz here!
Cormega : The Other Side
One of the realest MCs out on a great track from the "Born & Raised" LP on the unglamourous sides of the street life, featuring a light airy production from none other than Fizzy Womack of M.O.P! Yes, I was surprised too :o)
The Mouse Outfit ft. MC Presto : Who To Trust
If you've never seen The Mouse Outfit live, you're missing out. Coming out of Manchester, they're an absolutely firing band who in the last couple of years have added both members of Plato (MC Bedos and producer Pitch) to their lineup. To my mind, they're now at the start of the big push a lot of us have been waiting for them to make and have just released their debut EP "Check Your Pulse" from which this track is taken. On this tune, Bedos passes up mic duties to the American MC Presto who also turns out to be a good complement to the band, and this track just might be my favourite on the EP - the beat just works so well. Keep an eye out for these guys!
Troy S.L.U.G.S : Get It 4 Real
One of those 12" singles I've been waiting to play for a while, bringing a little harder edge sonically than the last few tracks. I can't even call this a forgotten gem since that would imply that people really knew about it the first time round! Pete Rock brings a dope, shoulder moving beat which already puts the track above the average and Troy contributes some fairly straight-ahead, solid rhymes - no crazy complex technique, but no nonsense either. I must say I don't know much about him except that he's from Astoria, NY, and that he had another 12" which I've got in the library with a nice B-side "88 Bars." That's good, but this is better - worth a pickup I think if you see a copy.
Superior Thought : Holding On
Like this beat? Find more of his stuff here. Talented UK producer out of South London who's really doing some good things staying true to the sampling style, keeping a very Hip-Hop flavour rather than going dubstep/grime/whatever. He's got a lot of stuff up on his Bandcamp, either free or cheap - definitely worth checking out. This particular tune is from his "S'strumentals" instrumental album, a free download you'd be mad to not at least give a listen!
2Pac : Strictly 4 My N.I.G.G.A.Z
Can you believe it's been fifteen years this month since 2Pac died? Crazy. I've never been a huge Pac fan - people who know my listening know that about me - but I will always say that I greatly preferred the era of his first three albums to anything he recorded after that. This here is a track which always stays on the iPod, always enjoyed it since it was first released and it's a good motivational one for the weights too! Produced by Laylaw (who has some great Hip-Hop history), the slow and low, sample-heavy vibe fit the attitude of the lyrics much better than any synth outing could ever hope to. Lyrically, 'Pac would never fit into the super-complex category, but could always be said to put down how he felt whenever he hit the booth; there's something to be said for that in life as well as in music!
Dr.Dre ft. Lady Of Rage : Lyrical Gangbang (edit)
Didn't feel like having the whole song so just knocked out a quick edit to give you some instrumental after the first verse. Taken from "The Chronic" of course, this one plays slow and bangs loud - not the first tune people think of when this album comes up for discussion but sometimes, only this tune will do! If they end up creating a time machine I want a quick trip back to when hard rhymes like Rage's and heavy beats like this were standard issue...
Camp Lo : Something For Nothing
The Camp Lo unreleased/soundtrack/compilation/B-side catalogue is full of gems, if you can find them! I've definitely said before how much I rate this Bronx crew going back to the first time I heard "Coolie High," and this track is a seriously under-the-radar piece I was glad to add to the collection! This is on a white-label 12" with some other bits from other artists so is lacking full credits, but a quick web search tells me this is a 2001 track from the compilation "Stimulated, Vol.1" and Lord Digga was the man with the slow, swaggering, soulful beat. Add to that the Lo's dense slang styles and you've got a winner!
UNKLE ft. Alice Temple : Bloodstain
Bit of personal trivia - the first time I went to donate blood, I lay down on the bed and this tune came on my MP3 player on shuffle! That said, since it was the very early days of MP3 players and it had a grand total of 64MB memory (read that again, carefully), it wasn't that unlikely! This is still a headphone staple for me, it still sounds fresh - hard and heavy drum track with plenty of space for Alice Temple's vocal to breathe. Bit of trivia - apparently, Alice Temple was the first female UK and European BMX champion. All that and an angelic voice! As for UNKLE, this is the "Psyence Fiction" incarnation of the group, with James Lavelle and DJ Shadow being the driving forces behind the project.
[Slip Wax] Bomshot : Kill Em All (Instrumental)
2005 track out of Boston on Commonwealth Records; truth be told, this 12" is pretty nondescript on the whole. I got it primarily because Agallah produced the A-side, but the rhymes just didn't grab me. I do like this B-side beat and it worked nicely for the blend, but again, lyrically the track didn't do anything for me at all. It's just like that sometimes!
Raphael Saddiq ft. Q-Tip : Get Involved
First heard this on one of DJ A-Up's mixtapes a while ago, chased him up to find out what it was and managed to get a vinyl copy recently in time to get it on the podcast; I'd slowed the MP3 down before and liked how it sounded so knew it needed to be on here! Oakland's Raphael Saddiq is one of those artists who was always kind of at the periphery of my consciousness - never really knew his work properly but did know of Tony! Toni! Tone! and Lucy Pearl - but this track got me on board and having checked some of his albums since, I can better appreciate what he does! Got this on a 12" single but you can probably find it more easily on the soundtrack to "The PJs."
Nas : It Ain't Hard To Tell
One that everyone knows, so you've got a point of reference to go with! I love what the slowdown does to the "da-da, da da" in the hook, and Large Professor's filtered bass on this damn near drops out of the bottom of the speaker!
Unknown : Grand Theft Auto Theme
This is from the original Grand Theft Auto game, the top-down one that was released on the PC back in 1997; if I recall correctly, I searched the CD for sound files to get hold of this track and have been carting it around ever since! Not sure who put this track together, but it sounds like they were heavily "inspired" by Easy Mo Bee's beat for Craig Mack's "Flava In Ya Ear." Grand Theft Audio?
Slum Village : Climax
On the very first podcast episode, you heard the instrumental of this - now you get the vocal, but missing more than 20% of the speed! From the "Fantastic, Volume 2" album, this is probably my favorite Slum Village track. The big speed drop here makes it sound more ghostly and eerie than seductive...try it at night! This is probably the beat that made me a Dilla believer - some of the stuff he'd done before this point I didn't know he'd done, and some wasn't to my taste, but this one smacked me round the head and got me up to speed. Fresh.
EPMD : You're A Customer
Winding up with one that the heads will certainly know, another classic! Over 23 years old but never fails to get the necks snapping! The samples/interpolations it uses are well known so I can talk about them; taking a four notes from ZZ Top's "Cheap Sunglasses," a little "Jungle Boogie," and of course the "Fly Like An Eagle" snatch and adding some drum machine, EPMD built a monster. Result.
---
Please remember to support the artists you like! The purpose of putting the podcast out and providing the full tracklist is to try and give some light, so do use the songs on each episode as a starting point to search out more material. If you have Spotify in your country it's a great way to explore, but otherwise there's always Youtube and the like. Seeing your favourite artists live is the best way to put money in their pockets, and buy the vinyl/CDs/downloads of the stuff you like the most!
---
Wed, 31 August 2011
Episode 27 : Low Budget, Expensive Taste
"...the optimum oxygen intake..."
- Strategy
(shout to DRS for the episode title!)
Crazy month, what with an outbreak of rioting in several UK cities, and in the US (at the time of writing) an earthquake and a tropical storm in roughly the same areas within about a week!
As I say in one of the links, I'm now on Twitter, just feeling out if it's something I need to stay with or not - follow me at airadam13, let's get some chatter going! But what are we going to talk about? Well, I reckon we should start with the tracks below...
---
Playlist/Notes
Random Axe : Black Ops
Wais P : Pimp Ops
The eponymous Random Axe (Sean Price, Guilty Simpson, Black Milk) album was definitely one of the most anticipated releases of the year by the real heads, and it didn't disappoint - it wasn't overly long, but what you got was rawness. With any luck, there'll be more in the future - I think the combination works really well! Right here is probably the only time I'll play a track featuring Sean P but not include his verse - I just give you Guilty's verse on the original before switching into the second verse from Wais P's version from the "Random Pimp" mini-mixtape (so there's still some P in there...) Wais P was previously in a Roc-A-Fella-affiliated group called The Ranjahz but he's back now as a solo artist on the pimp tip and is definitely coming up and making some noise - keep a lookout! (even though he should have called his track "Mack Ops!")
Capone-N-Noreaga : Stay Tuned (Instrumental)
I love this beat, always have done since this album ("The War Report") first came out - I always thought it was a waste they just used it for an interlude instead of rhyming over it. Charlemagne, who did a lot of good stuff for Natural Elements, is on the boards for this one - props.
Roc Marciano w/ The Alchemist & Oh No : Jet Luggage
This is the kind of track to make you pull your collar up and your hat down! Not sure which of the three took the reigns on production here, but my betting is on The Alchemist - he's usually good for the 70s kind of feel. That crazy sound on the left took a few seconds to grow on me but then I saw the genius - wouldn't have been the same at all without it! This is taken from the excellent "Greneberg" EP; if you don't already know, Roc Marciano's album from this year was "Marcberg" and Oh No and Alchemist came together for an album as "Gangrene." All three of them get on the mic here and do the track justice!
Royal Flush ft. Khadeija Bass : Can't Help It (Remix)
I actually prefer the original but this is a version which will be new for more people, and it fits better in this slot too. Only available on the 12" of "Can't Help It" which I found by accident, didn't even realise that it had been released as a single. "Ghetto Millionaire" definitely had some gems on it, well worth having for some quality mid-90s vibes!
Simtraks ft. Kaze, Pierce Freelon & King Mez : Black Fantastic
I was searching for Camp Lo videos on Youtube and found a tune I'd never heard before called "Eternity Window" produced by someone called Simtraks. I liked it so followed the Bandcamp link in the video description and found his "Sputnik Sweetheart" album available for free download - definitely worth hearing! Not everything is up my street but there are some really good tunes on there, of which this is one, and "Eternity Window" is another. The MCs do their thing on here over the Stevie Wonder "You Will Know" sample (it's ok, Simtraks already revealed the sample!), and the producer wisely doesn't mess too much with a good loop!
Strategy : The Bleep Test
Now this is how you take a concept and execute! Broke 'n' English are definitely Manchester's best known Hip-Hop crew and have been putting it down for years as individuals and as a group. Fresh off the opening of their new studio space, frontman Strategy felt the creative fire and knocked out the smoking "Pre-Season Training" mixtape for free download and it's been blowing up all over the city and further afield. As good as this track is, it's probably not even my favourite on there (that would be "Kill 'Em") but this is one I really wanted to share - even though it brings back bad memories of high school PE lessons ;o) If this is anything to go by the upcoming Broke 'n' English album "Life On The Costa Del Salford" will be a classic!
Fakts One : One Time For Des
I plead innocence to the distortion - it's in the original beat :o) This is the kind of track that wants to bust out of the speakers and kick your TV in! This is the third track in a row to come from a freely-downloadable project - this time, it's "The Chop Shop" where Boston's Fakts One (of The Perceptionists) shows you how he gets down, generously sharing some quality material. If you're not already on the way to download it, fix that now :o)
Kid Capri w/ Cocoa Brovaz & Buckshot : Follow Me
Nothing fancy, just a good head-nodding tune! This is from Kid Capri's "Soundtrack To The Streets" compilation - not the most esoteric album title, granted, but sets his stall out clearly! Boot Camp combination on the mic bring the Brooklyn flavour to the vocal
Encore : Too Easy (Layover Outro)
I've had the album this is on ("Layover") for ages but don't know most of the tracks that well; I pulled this out while looking for some stuff new to me to include and it may just persuade me to give this LP another chance! Encore's from the Bay Area and has a lot of good co-signs on his LP, from Souls Of Mischief and Ladybug Mecca on the mic to Jake One on the beats - this beat though comes from Vitamin D, blending nicely with the previous track but having more of a jumpy, slightly unpredictable feel to it.
Mother Superia : Most Of All
Have you got this one? Now now, don't cry, it's ok. Seriously though, heard this on Westwood years ago when it came out, loved it but then heard it nowhere else - or any more from the artist for that matter! This turned up during a London digging mission, and seeing the credits confirmed that this is a Reggie Noble (Redman) production - I think it's definitely got his kind of sound. I could hear him ripping this but make no mistake - Mother Superia definitely comes off on the mic here. A bit of web searching reveals that she's from Miami (I'd assumed she was from Jersey) and is now known as Savana...still not heard any of her new stuff though!
D.I.T.C : Way Of Life
Some barely pre-millennial heat on this 12". This was a pretty big single on the scene if not for the wider public, so all the listeners who are heavily into their Hip-Hop will likely know this - for everyone else, hopefully it gives you the same kind of bounce! Show is on the beat, taking a sample that's been used before but tweaking it just right to bump the track along, and Fat Joe and the late Big L do their think mic-wise. I don't think it's unfair to say that Big L is definitely the star on this one!
[K-Murdock] & Mega Ran : Epoch (Instrumental)
Maryland definitely has some very serious beatmakers - a couple of episodes back I played some Kev Brown, and here you have another crazy talented producer, K-Murdock of Panacea & Neosonic. Is it something about the K? Anyway, I digress - this big, booming beat comes from the "Forever Famicom DLC" instrumental album of the "Forever Famicom" collaboration with Mega Ran, all based around Nintendo. If you play more games than me, you might recognise the sounds, but even if you don't, recognise the quality!
A.G. & Aloe Blacc : Hip-Hop Quotable
Dirty electronic business right here from A.G's "Get Dirty Radio" album. This Dilla beat was floating around for ages; I saw it labelled "Electronic Hum" on a beat tape, and it was later on "Jay Stay Paid" as "caDILLAc," but to me this track is the definitive appearance. Somehow when this was released on 12", it managed to be the B-side to "Frozen" - don't get me wrong, that's a dope track, but it's not seeing this. Anyone who has even half a Hip-Hop collection will find the lyrics to this one kind of familiar...hence the title. I actually remember a mate called Justin in high school who had this idea - he was going to call it "The Copy!"
Random (aka Mega Ran) : Shadowman
You only got an instrumental a couple of tracks up, but here you get to hear Mega Ran go in hard on the mic and on the boards too - Philly stand up! This killer tune comes from the "Mega Ran v1.3" album, which famously was all based around the Mega Man series of games - this track may be the least directly connected in terms of lyrics, but it's probably my favourite - getting all kinds of rewinds this month!
Ghostface Killah ft. Raekwon & Masta Killa : Black Jesus
Leading off the D-side of Ghost's "Ironman" album (which is probably still my favourite, and which everyone should own), RZA takes some sword-and-sandal-sounding sample and turns it into a basis for the two slangiest Wu members to batter the mic into submission alongside Masta Killa, whose unmistakable vocals close out proceedings. It took me a while to appreciate this track, but it's definitely one of the top cuts on what is definitely a classic album.
Tribeca, Masta Ace, Mr Complex & Lord Tariq : Get Large
The first time I heard this as an extra track on a Tribeca 12" I thought this track was brilliant, and I still do - it's just gor triumph all over it! The producers are two guys I've honestly never heard of - LeDamus and SLA - but they cook up a storming instrumental here and the MCs have to put in some serious work to balance out the largeness! I thought this was Tribeca's record with everyone guesting but I've since found it on this 12" and it looks like a producer-led project under the banner of Get Large Productions. Anyway, it's amazing what can be achieved when no-one cares who gets star billing :o) Winner.
Daft Punk : End Of Line (Photek Remix)
Truth be told, I'd never been a Daft Punk fan at all, but I made a rare trip to the cinema to see Tron : Legacy and was definitely impressed with their soundtrack. Turns out I wasn't the only one, and not only was the original soundtrack really popular but it also spawned a remix project, with all sorts of electronic artists getting in on the act. If this is at all your kind of thing, or if you're into the glitchy kind of sound, then it's one you should look to pick up.
Roughneck Jrs : Sound Of The Phuture
Included as an insert on the 1993 Breaking The Illusion "Lose Your Illusion" EP, I'm playing this as a tribute to Gavin, one of the MCs on the track who sadly died this month. None of the MCs were any older than 16 on this, and this was at a time when it wasn't common for young guys to really be doing stuff - there wasn't the access to technology etc that there is nowadays. RIP Gavin, just putting this energy out to spread a little further.
UGK : One Day
Opening track from the 1996 "Ridin' Dirty" LP; thought this would be a good one to play as a closer and a further tribute. The exact lyrics in the verses don't necessarily relate to this situation, but the sentiment and the feel I think are universal. UGK are from the town of Port Arthur, Texas and were made up of the late Pimp C and Bun B; these guys really did put their town on the map and turned out quality Hip-Hop for years before the rest of the country - or the world - took much notice. It took a long time for them to get their props, but it happened in the end. As it happens, just this year, August 30th was declared Bun B Day in Houston; an incredible honour, though I'm sure Bun would have loved his man to still be around to make it UGK Day.
---
If you do hear anything you especially like then do get in touch and let me know, and please support the artists - find more output of theirs on Spotify to get a feel for it, go to live shows if you can (that's where they really get paid) and buy the stuff you like the most!
---
Thu, 11 August 2011
Finally decided to give Twitter a go...follow me @airadam13
Category:
general
-- posted at: 2:24am EDT
---
Sun, 31 July 2011
Episode 26 : Without A Trace
"It's like tryna crack encryption codes..."
- Sly
What a month. The tragedy in Norway, Amy Winehouse dying, and maybe the beginning of the unravelling of Murdoch's hold on the UK?
I started doing the selection/recording before most of these events happened, so any coincidences are just that...
As promised, here are my photos from the Roy Ayers/Pete Rock gig;
@Air Adam Photography on Facebook
and here are my pocket camera shots from the Ice Cube/Naughty By Nature gig, while battling some bully-boy idiots at the front!
@Air Adam Photography on Facebook
---
Playlist/Notes
The Jackson 5 : Walk On
A live instrumental workout for the boys from Gary, Indiana - their own version of Isaac Hayes' "Walk On By." Been sampled a few times, including to great effect on...
Non Phixion : Cult Leader
Dave One of Obscure Disorder takes his cue from the preceding track, doesn't do anything crazy to it but just does enough - I think it fits the theme brilliantly. Ill Bill absolutely smashes it in the title role as a charismatic, malevolent religious figure and the whole package is finished off by Dave One's brother (the legendary DJ A-Trak) throwing down some of the most ridiculous cuts you'll hear anywhere. I scratch but there are things he's doing on here I can't even comprehend, never mind do. This track was an early selection for this month's show and recorded very early in the month; what with things that have happened since I kind of wish it had been another month but of course, no disrespect intended.
[Tic] Main One : Cross Examination (Instrumental)
Just a cool little instrumental, a nice bridge between the tracks on either side. I think I picked up this 12" in London on the strength of it featuring Smoothe & Trigger and Ski being on engineering duties, but in London most record shops don't have listening posts so I really didn't know what I was getting. Not a classic by any means but on the other hand it fit nicely here so I guess I was meant to find it?
Statik Selektah & Termanology ft. Reks : The Dream
Dark and brilliant. From the free 1982 EP, Termanology and Reks go in on the themes of substance abuse and depression over a killer Statik Selektah beat. If anyone can send me a message and let me know what the sample is on the hook, it would be much appreciated :o)
Pete Rock & CL Smooth :It's Not A Game
Such an ill Pete Rock beat, great one in the headphones or in the car! This is a classic B-side, coming on the flip of the "Lots Of Lovin'" 12" and absolutely winning like Chuck D would say! Not too much to say, except to hope you don't wear out your "rewind" buttons (or your touchscreens) running this one back...
Lake & Cormega : The Oath
Taken from the Lake & Cormega "My Brother's Keeper" album, Ax Tha Bull (!) on production with an alternately tense and dramatic number, could almost be part of a score! It's an all-Queensbridge affair on the mic, but while alleged hard-rock Lake gets the first two verses to himself, it's Cormega who really shines here with a storming close.
Snoop Dogg ft. The Dramatics & Lil 1/2 Dead : Ballin'
Horizontally laid back! Not the best known Snoop track and not one with his most complex rhyme schemes but I love it. From the album "Paid Tha Cost To Be Tha Boss," this is the second collaboration between Snoop & The Dramatics (after "It's A Doggy Dogg World"), with them basically doing a cover but with a dubplate-style flip of the hook from their track "Fell For You." Nighttime rollin'...
[Hi-Tek] Royal Flush : Shines (Instrumental)
Before everyone was giving him his props, Hi-Tek showed his skills using the classic Roy Ayers "Everybody Loves The Sunshine" sample on the B-side to Royal Flush's burner "Iced Down Medallions." Nice 90s joint with that filtered bassline flavour...great month to get this tune in!
Jan Hammer Group : Don't You Know?
Hope people like this, I paid out a fair bit to get myself a copy of this album ;o) Jan Hammer is known to most as the man behind the Miami Vice music, but he's got a long history as a respected composer and pianist/keyboardist in the jazz world. This is from the 1977 "Melodies" album, for those who collect this kind of thing! I played it partly because I really love it, and partly because it allows me to do a clever little mix into...
Da Beatminerz ft. Talib Kweli & Total : The Anti-Love Movement
One month I might try to do an episode made up solely of "opposite" tracks! Couldn't believe it when I realised how close together these tracks are tempo-wise, so this just had to be done. Besides, I'm sure some of you can relate to the conflict in feelings! This is from the essential "Brace 4 Impak" producer project from Da Beatminerz, which I constantly forget isn't a new record anymore. Looking at the link, it seems there are some very cheap deals on this release so do yourself a favour and get a copy - as nice as this track is, it's not even close to the best thing on there!
Roy Ayers : Funk In The Hole (PPP Remix)
From the "Virgin Ubiquity : Remixed" project, a nice pickup from Manchester's Kingbee records. Detroit's Platinum Pied Pipers bring heavy, knocking drums and all kinds of dropped in sounds to the original jazz flavour.
Edo. G : Fastlane
Boston business here. Edo G (sometimes Ed O.G.) has been doing it since the early 90s (I first heard him on "Be A Father To Your Child") and has that quiet level of respect that those who sell out will never understand. On this opening track from his new "A Face In The Crowd" album, DJ Premier brings a low-key but still solid beat for Edo to reflect on. Nice.
[Kenny The Seagull] Blacklover88rs (Dr.Oop + Two-B) : Don't Bounce (Instrumental)
The man Pressey was the first one to tell me about Dr.Oop, though more on the production side if I remember correctly (I probably don't!) The "Daze Like These" 12" that this came from isn't my favourite, but it did at least yield this beat. That said, it's probably one of those releases I'll come back to years from now and wonder how I slept on!
Smif-n-Wessun : Pete Rock Track
Sound rough, but worth sharing I think! A few years back, Smif-n-Wessun were signed to Rawkus Records (bet James Murdoch wishes deciding which MCs to sign was his only problem), and recorded an album which never came out. It did leak at the time and there were some excellent tracks on it, of which this is one. Not very imaginatively named, but maybe it'd have got a proper title with a proper release. Anyway, there's now a full-length collab ("Monumental") between Los Hermanos Chocolates and Pete Rock which is a solid release - check it out!
A Tribe Called Quest : Midnight
One of my favourites from Tribe's "Midnight Marauders" LP, but for some reason no-one ever talks about it! Anyway, take a little listen and see if it goes up in your estimation :o)
Sly Boogy : Everything
From the compilation "Back 2 Basics" (which I chanced upon in Vinyl Exchange at the right price) the "Wake-Up Show" duo of Sway and King Tech present this slightly off-beat, funky, twitchy bit of west coast flavour - Supa Dave West (who you might know from various De La Soul tracks) is on production and Sly Boogie has the right level of gruffness to ride over it. On top of all that, the "Everything" vocal sample is the kind of icing that makes me want to set off an airhorn!
Little Brother : The Becoming
As Phonte once said, "dope beats, dope rhymes...this Hip-Hop ain't really that hard." One of the most interesting everyman personalities on the mic, he comes here with a couple of verses on how Little Brother came together, and does so on a dope 9th Wonder beat that will get your neck moving if you have any funk whatsoever! Though you might expect a track on your origins to be on the first album, this is actually from Little Brother's second release, "The Minstrel Show."
The White Shadow of Norway : All My Friends (Instrumental)
It was only right to have something from Norway this episode - I didn't have this in my collection but bought it specially as an individual download from his "Instrumentals 2" project. It seems White Shadow is a serious veteran, having started DJing in the late 70s and over time making the move into production; by the sounds of things he's the elder statesman and reference point for the Norwegian scene!
Grandmaster Flash, KRS-ONE, Afasi, Kase.o, Maccho & Abass : We Speak Hip-Hop
I've had this kicking around for a while and this seemed like the perfect time to play it. An international collection of MCs led by KRS-ONE under the wing of the pioneering Grandmaster Flash, with a message of unity despite superficial differences. What could be better?
---
Please remember to support the artists you like! The purpose of putting the podcast out and providing the full tracklist is to try and give some light, so do use the songs on each episode as a starting point to search out more material. If you have Spotify in your country it's a great way to explore, but otherwise there's always Youtube and the like. Seeing your favourite artists live is the best way to put money in their pockets, and buy the vinyl/CDs/downloads of the stuff you like the most!
---
Tue, 31 May 2011
Episode 24 : 60 Minutes
"Just because you play the role, don't mean you get the part."
- Bavu
Getting this in barely in the nick of time before the month ends, things seem to have been conspiring against me! This episode marks the end of the second complete year of episodes and is an hour on the dot of gems from the 70s right up to last month. Hope you like it!
Just to give you a couple of links I mentioned on the show;
Nougold Podcast (DJ A-Up & Bedos) - monthly podcast of strictly new Hip-Hop, picked by two of Manchester's most discerning heads!
---
Playlist/Notes
Ice-T : High Rollers
I had this playing in the car the other day on the way to work and decided right there that it should open up this episode! Despite the fact that this was one of the singles from the "Power" album (Ice-T's second) it might not be familiar to everyone simply due to its age - 23 years old now! The sample's from Edwin Starr's "Easin' In" from the "Hell Up In Harlem" soundtrack, and the lyrics are classic Ice-T of the era - describing the glamourous life of the gangster for most of the song before teasingly asking at the end if you really think you want it. The video nicely intercuts the shiny exterior with the harsh reality of real footage, definitely worth a look.
Jeep Beat Collective : Like Dis Dat? (Instrumental)
JBC was just one facet of the man known as Dave The Ruf AKA Rufmouth, a man of respect in the UK Hip-Hop scene. When I was a student I used to buy records from his mail-order shop, as well as my first turntablism videos, and his Radio Zero monthly shows on cassette were a definite influence on me deciding to do a podcast in the form you have now! I'm proud to be able to say that nowadays I can count him as a friend, and a friend who can smash out a serious beat - I'd say without breaking a sweat, but when it comes to hosting a jam he's as energetic as they come!
Naughty By Nature : It's On
Without question one of my favourite Naughty By Nature tracks, coming from the "19 Naughty III" album. The little stabs of horn leaking through that early 90s drum track with the bassline running under it just add the seasoning to a killer Kaygee production on which the MCs can get busy. Love the video too. Naughty By Nature are coming to Manchester fairly soon and if they don't perform this track I'm going to be very disappointed!
D-Flame ft. Camp Lo : Nuh Like Dem Neither
Having been to Munich in the past month, I thought I should try to play something German! I believe D-Flame is from Frankfurt, and he makes the connection across to the Bronx to bring in the incomparable Camp Lo. This was one of the first tracks I found on Spotify, while searching for any Camp Lo I didn't know. The sample-free production might not be to everyone's taste, but to me the heavy low-end boom on the kicks and the insistent keyboard somehow work :o)
Phi-Life Cypher ft. Skit Slam : Rap It Up
As I've probably said before, PLC are one of my favourite UK groups - they just overwhelm mics with a verbal torrent on every track you hear them on.This is taken from their second album "Higher Forces" and along with guest Skit Slam (featured all over the album), they ride DJ Nappa's occasionally Indian-flavoured beat ferociously. These guys are high up on the list of Hip-Hop artists I'd love to see perform live but haven't seen yet!
Bavu Blakes : Play The Role (Bzzz Mix)
I didn't know much about Bavu Blakes so had to do a little research! He's from Texas (Austin, I think) and has one album, "Create & Hustle" which was released in 2003. The original version of this was the closing track on that album, and in short it gives everyone some very simple and useful advice - be yourself! Remix comes from Dallas' Hydroponic Sound System, and it's from their "Choice Cuts Vol. 1" EP that this track comes. Take the lesson, and meditate on it during the next song...
Peshay : Pacific
Gorgeous track, summery and laidback despite the tempo. Peshay is best known as a D&B producer/artist but his "Miles From Home" album from which this is taken shows more range than you might expect. Some reviews see that as a good thing, some as a negative - I'd say have a listen and make your own mind up! This track has been an iPod favourite for me for so long that it's almost a crime I hadn't played it until now :o) Still, mixes well with the Bavu track, no?
Suga Free ft. Porsha Jade : Married To My Cadillac
"Don't be like me." Wise words from the alter ego of Suga Free out of Pomona, California, who by all accounts is a real-life pimp with the prison record to prove it. His occupation tends to reflect itself in his lyrics, and he'll never make Germaine Greer's iPod, but my goodness can he rhyme! He's easily in the top 5 MCs for me when it comes to "rewind moments," in the sense of "he said WHAT?!" and one of those MCs who I will always check for every time he puts something out. He's got 5 good albums out of 6, with one due this year, so we shall see... On this track from the "Smell My Finger" album he takes this smooth beat by a producer called Khrys and weaves what at least starts as a story around his Cadillac pimpmobile in a style only he could pull off. Dope.
Rakim ft. Talib Kweli : Gettin' Up Anthem
One for the graf writers! Don't know too much about this one - got it on a bootleg-looking 12" of under-the-radar Rakim tracks, but I think it's the theme tune from the video game "Getting Up" which came out a few years ago. I've also seen it other places titled as "Subway Surfin'" (which would fit the voice sample in the hook), but no idea who produced it.
De La Soul : The Grind Date
Despite the fact that they didn't turn up to the Manchester gig this month where people were expecting to see them, here's a De La track that I've always liked. In addition, I'm sure it's one I'm sure a lot of people can relate to - the daily struggle of hard work to make a living! Supa Dave West is on production with a beat that sound halfway between celebration and some kind of working cadence - supa indeed.
Tek : All Massive
Ayatollah on the beat, bringing the reggae flavour to this Brooklyn track, with Tek of Smif 'n' Wessun on the mic. I never really listened to the lyrics on this properly before but it's actually much harder than I thought from just hearing it in passing - a proper vicious revenge story! This was on a 12" under Ayatollah's name but later turned up on Tek's "It Is What It Is" album, which is up and down but when it hits - knocks it out of the park.
DJ Quik & Kurupt : The Appeal
Great DJ Quik production on this track from the "BlaQKout" album with Kurupt. I've only played the first half of the track as that's my favourite part, after the hook the beat and theme changes and while it's still good it just doesn't do it for me like the opening half! It's all about the bassline I think, but also Kurupt's voice fits this track perfectly.
Ian Martin : Tell Me If You Still Care
Seems like a left-field selection but coming out of that Quik beat that precedes it it just seemed to go so well I couldn't see putting anything else in this spot! This is a jazz instrumental version of a track by The SOS Band which has been sampled a few times to good effect, with the bass probably being the focal element. I'd not heard of Ian Martin before I heard this track, but apparently he's a name when it comes to jazz bass - I'm sure some of you know his stuff a lot better than I do!
Elzhi : It Ain't Hard To Tell
Big move from Detroit! Any kind of cover or tribute version in Hip-Hop is dodgy ground, but my goodness did Elzhi and Will Sessions smack it with the "Elmatic" LP! They took a very wise approach to making the beats on that project, consciously avoiding adding all sorts of little live band cuteness and freelancing and keeping it focused to allow Elzhi (who you may know from the later incarnations of Slum Village) to come in on the mic with his quality lyrics, influenced a touch by the original but unmistakably his own. Get yourself a copy right now from here. While you're at it, every listener to this podcast should have a copy of Nas' "Illmatic" LP which "Elmatic" is of course based on. Every listener.
The Roots ft. Mos Def : Double Trouble
The main beat on this track is phenomenal, they shouldn't have even switched it up in the hook! Not that I'm an expert, but my neck doesn't lie :o) This is a pick from the "Things Fall Apart" album, which as far as I'm concerned is The Roots' best, closely followed by "Illadelph Halflife." Trust me, pick up those two albums and you will not be sorry. Bonus points if you read the novel "Things Fall Apart" from which the album takes its name. Anyway, as far as this track, Black Thought and Mos Def work their magic over the beat from the band, which incidentally has a nicely-mixed kick drum that can do damage on the right system!
Black Moon : Act Like U Want It
Nice B-Side to the mighty "How Many Emcees," in fact even though that track is a classic, I'm much more likely to be listening to this. Da Beatminerz handle the production as is standard for Black Moon and notably both Buckshot (the don) and 5ft Accelerator are on the vocals - 5ft missed a lot of the recording of the "Enta Da Stage" album itself due to legal problems, but he brings his sneaky aggro style in for the second verse here. Underappreciated track, definitely.
Kool DJ EQ ft Xzibit, Del The Funkee Homosapien & Casual : Three Emcees
I was listening to this tune in the days of downloading RealAudio files (ugh) onto floppy disks at university - and there was me thinking at the time how super-advanced that was! I think I prefer having a proper vinyl of this at last, thanks to the man Mikey Don :o) Three great West coast MCs grace EQ's beat - yes, some of you might only know X from "Pimp My Ride" but you need to go and do your homework!
Eric Lau : Ill Invasion (Left Steppin') (Instrumental)
Detroit-influenced spacey head-nodder but coming out of London! This is the instrumental of the lead track on the "Dudley and Friends" 12" and just bumps along with a nice clean sound and just a hint of off-beatness in the rhythm. Yes, I just sounded like some kind of Hip-Hop wine critic... let me switch gears and say I had the pleasure of meeting Eric a few years ago when he was in Manchester and he's a thoroughly down-to-earth guy as well as talented - fair play to him!
Gil Scott-Heron : Pieces Of A Man
I'm not someone who owns the whole catalogue or anything, but out of all the Gil Scott-Heron tracks I've heard, this is my favourite. The way the world economy is at the moment, there are probably a lot of people who can relate to the lyrics at least in part. Haunting and powerful, it says a lot in few words.
---
Please remember to support the artists you like! The purpose of putting the podcast out and providing the full tracklist is to try and give some light, so do use the songs on each episode as a starting point to search out more material. If you have Spotify in your country it's a great way to explore, but otherwise there's always Youtube and the like. Seeing your favourite artists live is the best way to put money in their pockets, and buy the vinyl/CDs/downloads of the stuff you like the most!
---
Sun, 15 May 2011
I know a lot of people are on Facebook so I've just created a "Page" which I'll hopefully be able to use to keep everyone up to date with what's going on! You can find it by clicking here. "Like" it and spread the word!
Category:
general
-- posted at: 4:43pm EDT
---
Wed, 26 January 2011
Episode 20 : Game Reset
"Like my dun Ron-Ron Artest, we teach y'all 'bout wildin'..."
- Prodigy
"Start out on the street, end up in the court"
- Nick Javas
Just couldn't choose between these two quotes - but then they both go well together :o) Happy New Year everyone! This month the selection just seemed to come really easily for the most part; I've pulled out a fair amount of old-ish Hip-Hop and mixed it up with a few more modern pieces - anyone who knows them all really is a veteran!
---
Playlist/Notes
JVC Force : Tear The Show Up
Starting off 2011 by taking it back to 1990! JVC Force are indisputably best known for their mighty single "Strong Island" from 1987, but in my opinion this track is the best one they ever did. Yes, you heard me, better than "Strong Island." This is taken from their amazing (and criminally overlooked) second album "Force Field," which is one of the very first Hip-Hop albums I ever had (shout out to Dan Clarke) and is still one of my very favourite from the era. Please, if you love Hip-Hop with that classic essence, rush out and buy this one! To this day I listen to something from this album at least once a week, and it's one of my most prized vinyls. While the group disbanded some time ago, AJ Rock , B Luv, and Curt Cazal are all still involved in music in different capacities; Manchester listeners may be most familiar with Curt Cazal for the work he did with Grand Central in the late 90s.
Mark Ronson ft. Ghostface Killah & Nate Dogg : Ooh Wee (Instrumental)
Loved this when it came out, and I still do. Sped this up quite a bit to fit it into the mix but it's still a fair bit slower than the original Boney M sample it's based around. This one always works well in a club, if you've got enough other tunes fast enough to fit round it!
Above The Law : Untouchable
Back to 1990 :o) As I've probably said before, Above The Law are one of my all-time favourite groups and this track was my absolute favourite on their first album; I must have worn the tape out just running it back over and over again! The lead MC Cold 187um is responsible for the fire production (ignore all the misinformed fools who try to tell you Dr.Dre did their beats), and both he and KMG keep pace with their contrasting styles on the mic.
Hustlers HC : Let The Hustlers Play
Someone else is obviously an Above The Law fan, since they are sampled twice on this track! Asian flavour all over this hot 1993 UK track from a Sikh crew out of West London. This is the B-Side of the single "Big Trouble In Little Asia" and while it's not tackling heavy issues like the A-Side it is to me the far better track, production-wise at least. I grew up in an area where I'd hear a lot of Asian music and thought it worked really well when blended with the uptempo, drum/break-focused style of beats of the late 80s/early 90s. You're unlikely to see copies of this around now without specifically looking for it, so take this sample as a gift from the neglected corners of my record collection!
London Posse : Jump Around
Love this tune, though I've not included all six minutes of it! This is from the landmark 1990 UK Hip-Hop LP "Gangster Chronicle" which has one of my favourite album covers, besides anything else :o) I'm not sure what Bionic is doing these days, but those of you who keep up with UK Hip-Hop will know that Rodney P has continued to put out classic material to the present day!
Donald D : Rage Of The Rap Renegade
I am a Donald D fan. Back in my high school days I used to hear him as part of Ice-T's Rhyme $yndicate killing it on the mic, and his verse on "Fly By" (from the Ice-T "OG" album) is one of my all-time favourites, I learned it by heart back then! I ran into him by chance in Leeds before a KRS-ONE show and got the chance to tell him so, a big highlight of 2010 for me :o)
Buckshot LeFonque : James Brown (Pt. 1 & 2)
Buckshot LeFonque was a Branford Marsalis side-project, blending his style of jazz with Hip-Hop amongst other styles; if you ever wanted to hear live musicians playing jungle, for instance, you need to pick up the "Music Evolution" album!
Mobb Deep : Another Victory
I'd forgotten all about this one until it popped up when I was playing a stack of MP3s at random! It's from the soundtrack to the game "NBA Live 2004" (I'll just say that I have my own long history of handing out beatdowns on the NBA Live series from its inception) but despite that I think it's actually pretty good! It's also one of the rare Mobb tracks that's totally radio-friendly, and manages to not talk about any shooting...apart from a basketball!
DJ Jazzy Jeff ft. J-Live : Practice
The first of two tracks to sample the famous outburst from the much-maligned Allen Iverson. I remember reading somewhere (and this detail is generally wilfully unreported) that the trigger for the kickoff was that someone close to him had died. As far as this track, it's from the "Return Of The Magnificent" album and is the kind of smooth dopeness you expect from Jazzy Jeff, with J-Live on the vocals giving us the real story of the work that goes into a career in music.
Nick Javas : Not A Game
When I heard this track, I knew it was going to be on the show this month and I also knew what track had to precede it! DJ Premier comes in with a brilliant use of the Iverson quote and new artist Nick Javas uses it as a springboard to explore "games, " with plenty of sporting metaphors, similies, and double meanings along the way; the second verse is amazing. This is from the Year Round Records compilation "Get Used To Us," essential listening for those who like that hard Hip-Hop!
Evidence : Ragtime
Nice piano beat taken from the "Yellow Tape Instrumentals" vinyl. Evidence of Dilated people tends to be somewhat underrated as an MC and as a producer, he's done some heavy tracks over the years.
Soul II Soul : Back To Life (Accapella) & Masta Ace : Jeep Ass N!guh (Bizcapella) (Instrumental)
A little blend for you! If you have a copy of the Soul II Soul album, you'll know that it's actually an accapella and it's only the single versions that have music (and the vocals were re-recorded). This has been much sampled over the years for one reason - it sounds amazing. Soul II Soul are one of the great innovative British groups who found success here and abroad by creating their own lane.
Blended with that is the awesome beat from the remix of Masta Ace's ode to the auto sound system; of course there was the original jazzy album version, plus the retitled "Born To Roll" version which are both cool. Some people prefer those versions, it's just that those people are wrong ;o) Essential 12" for your collection, no question. On top of that I've just sprinkled a little seasoning to make the whole thing mwah!
Lexxus : Divine Reasoning
I'm not someone who follows the latest dancehall releases or anything, but when I find a tune I like I run with it! I loved Lexxus' "Ring Mi Cellie" and picked up a copy on 12" to play out, but on the B-side found this killer. Big tune from Mr.Lex! *airhorn*
T La Rock : Lyrical King (From The Boogie Down Bronx)
(Loving the bracketed bit) Taking it back to the 80s with one of the overlooked greats, T La Rock of "It's Yours" fame. This is the title track from his first album and showcases vintage production from Kurtis Mantronik. Plenty of you wouldn't have been born when this was released, which is pretty freaky to think about...
Archive : All Time
Keeping the 808 beat going with this one, but on a very different vibe. I still need to play you their amazing "Nothing Else," but this tune holds down this spot perfectly. You may not know them, but Archive are a UK group originally formed by former members of Genaside II - their main style has generally been what is often called "trip-hop" but they're very versatile. Definitely worth digging into!
Unwrapped : Flava In Ya Ear
Jazz cover version wind-down business! I came across Unwrapped a few years ago; they basically do live instrument, jazzified covers of rap tracks (hence the name), and have six albums out which hardly anyone I know seem to have even heard of, much less heard! This version of Craig Mack's "Flava In Ya Ear" will never challenge the original for supremacy in my ears at least, but I thought it was fairly interesting!
E-40 : Practice Looking Hard
I've been hanging onto this one a while, decided this would be the month through it - a nice relaxed wind-down to the episode. E-40 is a veteran from Vallejo, California who started off doing his thing independently and was one of the pioneers in that respect, building his fan base with a lot of hard work and no major backing. This is from his third LP "The Mail Man," and it's a great track about having to keep up a tough facade for the world. The sample for the hook comes from Boots Riley of The Coup - another Bay Area act well worth checking out!
---
Please remember to support the artists you like! The purpose of putting the podcast out and providing the full tracklist is to try and give some light, so do use the songs on each episode as a starting point to search out more material. If you have Spotify in your country it's a great way to explore, but otherwise there's always Youtube and the like. Seeing your favourite artists live is the best way to put money in their pockets, and buy the vinyl/CDs/downloads of the stuff you like the most!
---
Tue, 9 November 2010
It's always interesting to know when putting out something like this podcast how far it's reached!
In keeping with the Hip-Hop attitude to representing where you're from, I'm using a combination of feedback from listeners and location information provided by my podcast host to produce a complete a map as possible of all the locations where downloads have been done from! The observant amongst you might have noticed the "Podcast On Tour" link in the right-hand panel; that also jumps to this map. Have a browse around, and if any of the pins in a very "general" (e.g country, state, province) area is you, let me know so I can correct it! If your town's not represented at all, let me know (ideally via a comment on this post) and I'll get it added!
PS - the colour/text on the pins has no meaning, just a way of getting round what looks like a bug in the mapping application :o)
Peace,
Adam
Category:
general
-- posted at: 5:00am EDT
---
Thu, 10 September 2009
Neighbourhood
The place: Saki Bar, Wilmslow Road, Manchester
The time: First Friday every month, 9pm-3am
The tax: £4 before 11pm, £5 after
Facebook group: http://groups.to/neighbourhood
There's a new night starting up in Manchester, bringing the finest in Hip-Hop, Reggae, Funk & Dub on the first Friday every month! It's split over two floors - "The Block" and "Yard", each taking turns to bring in a headline act in the appropriate style. We're all about finding the best talent even where that means not going for the biggest name, and above all creating an environment for the good party vibes! The resident DJ lineup is one of the strongest you'll find, including;
Joe W - Mind On Fire band member and organiser
http://www.mindonfire.co.uk
Myself; Air Adam - Family Gathering/Assmatics
http://airadam.com
DJ Mischief - The Pinch / MyFirstMoth Records
http://www.myfirstmoth.co.uk
Ed Speed - Dub Smugglers Sound System
http://www.dubsmugglers.com/
Louis Longshot – Drum Music/Longshot
http://www.longshotsoundsystem.com
http://www.drummusic.org
Omas – At Large
http://www.myspace.com/atlargeprodu

ctions
Next party is Friday October 2nd, with MEGA RAS and WIZZY DAN headlining for Yard; come down and party with us!
Category:
general
-- posted at: 7:34pm EDT
---
Tue, 16 June 2009
Hi everyone! This blog page is about to be the home of my new podcast. Some of you will already know me from my
DJing and production
, while others might know my
photography
work
. Those that don't know me will have have picked up on the fact that I have my fingers in a lot of pies!
So why am I doing a podcast? Well, I wanted a way to widely play some tunes I was interested in! Commercial radio is inaccessible to most would-be hosts of course, and while online radio shows can be good, you're relying on people to be able to tune in at a specific time on a specific day. That's not even taking into account the fact that it locks you into playing at that specific time, or all the streaming problems that seem to pop up! Playing in clubs is cool but restricts you to how many people you can get into the venue, and of course you need to keep it danceable so there's a lot of stuff which is difficult/impossible to fit into a set. Besides all that, mixtapes are harder to sell than they have been in the past, as the market has changed and there's more of an expectation of getting things for free. With a podcast, I can use a radio-like format, go on at length or keep it brief, and everyone can download easily/automatically and listen at a time of their choosing!
Putting all the "technical" considerations aside, it's really a way for me to share and get into discussions on music. I grew up in the pre-internet era (cue Hovis music or EPMD's "Strictly Business," whichever you prefer) - at that time, there was little if any Hip-Hop on TV or commercial radio, and so for a kid with a limited budget wanting to learn about it there were three main sources of music and info; tape swapping, pirate radio and magazines.
The pirate stations would play whatever they thought was good - the DJs weren't in anyone's pocket, and were playing records they'd bought with their own money - and over the years I got the chance to hear a wide selection; some of the records they played came from artists who went on to become legends, while others were one or two-hit wonders, but wonders all the same. The variety of stuff they played allowed me to develop and define my taste - finding an artist or record you liked lead to searching for info on them in the magazines, seeing who they were associated with or might be similar to, and then trying to get hold of some of that, and so on...then exchanging tapes of albums you'd bought with friends would send you on another path. This kind of cycle meant that records could become underground hits in one particular area while being pretty much ignored elsewhere.
Somehow, despite the explosion in media availability and speed of access in the modern era, this seems to be happening less and less! The DJs I grew up with very much kept a balance between playing stuff that people would obviously like and playing things they personally liked themselves, and so the range was very interesting. This is what I'm going to try and do with this podcast; I guarantee pretty much every episode, someone I know will say "I was really into (song x) that you played" and then go on to say "but what was up with that bullshit (song y)? You actually like that?" There'll be a mixture of Hip-Hop and music more generally, "underground" and "commercial," the somewhat known and the utterly forgotten, new and old, the conscious and the ignorant, and the straightforward and the slightly bizarre! I hope you'll find it interesting and entertaining, and that it leads you towards discovering and enjoying some music that's new to you :o)
Stay tuned - first episode soon come!
Peace,
Adam
Category:
general
-- posted at: 5:44am EDT
---